In this day and age, more and more people are looking for ways to improve their productivity. If you are one of them, a virtualization program, such as VMware Fusion, can greatly help.
VMware Fusion lets you run multiple operating systems on one computer, which can be highly beneficial if you need to use different types of software for various tasks. And in this tutorial, you will learn how to install VMware Fusion and create a Windows VM on your Mac.
Sounds interesting? Stay tuned, and let virtualization be part of your workflow!
Prerequisites
This tutorial will be a hands-on demonstration. To follow along, be sure you have the following:
A macOS computer (2011 or later) with the following:
At least 4GB of RAM
At least 50GB of free hard drive space.
An Intel processor – VMware Fusion does not support Apple's new M1 chips at this time of writing. You will most likely get a black screen error if you try to install Windows OS on VMware Fusion on an M1 computer.
A Windows ISO image – This tutorial uses Windows 10 21H2 Pro, but other versions will work.
Downloading and Installing VMware Fusion
One of the great things about VMware Fusion is that it supports macOS, which allows you to use your favorite Mac apps on a Windows computer, and vice versa.
VMware Fusion has two different versions: a player and a pro version. The only difference between the two is that the pro version has more features, while the player version is suitable for most regular users.
The prices for the two versions of VMware Fusion may be high, but you can opt to get the 30-day free trial to see if VMware Fusion is worth the price.
To download VMware Fusion, follow these steps:
1. Open your favorite web browser, and visit the official download page of VMWare.
2. Next, choose which version you would like to try. But for this tutorial, click DOWNLOAD NOW under the Fusion 12 Pro for macOS 11+, which is the latest at this time of writing.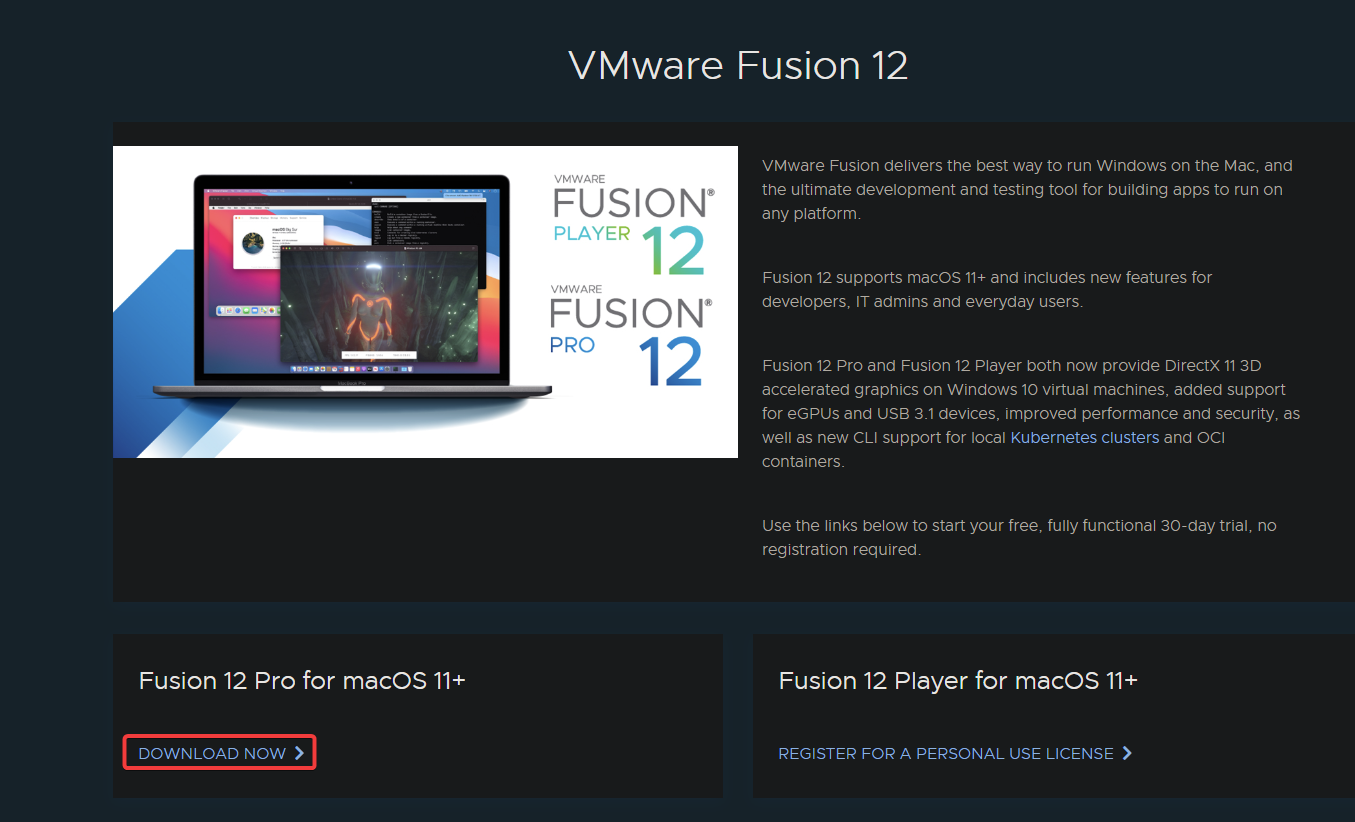 3. Save the disk image file (.dmg) in your Downloads folder. The file's size is around 800MB, so the download process may take a while, depending on your internet connection.
4. Once the download completes, run the ls command in your terminal to list the contents of your Downloads folder to ensure the file exists.
You will see a file named similar to the one below.
5. Double-click the .dmg file you downloaded to mount the disk image.
6. Next, double-click on the icon to start installing VMware Fusion.
7. Click Open when the confirmation below appears, asking if you're sure you want to open the application.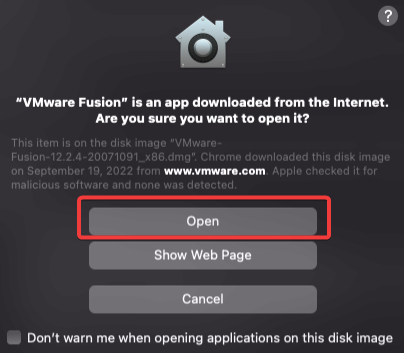 8. When prompted, provide the password for your macOS user account, and click OK to start the installation, which may take a few minutes to complete.
macOS requires this authentication prompt since you are about to install an application that will change your system.
9. Once the installation finishes, you will see the main window of VMware Fusion, where the common-used actions perform as follows:
| | |
| --- | --- |
| Action | Function |
| Install from disc or image | Install an operating system from a CD/DVD or an ISO image. |
| Import an existing virtual machine | Import a virtual machine created with another software like Parallels Desktop, VMware Workstation, or VirtualBox. |
| Create a custom virtual machine: | Create a virtual machine from scratch. This action is suitable if you prefer to install an OS not listed in the first two previous options. |
10. Finally, open Settings → Accessibility → Privacy → Tick the box next to VMware Fusion. This action allows VMware Fusion to control your computer and is necessary to run a VM on your computer.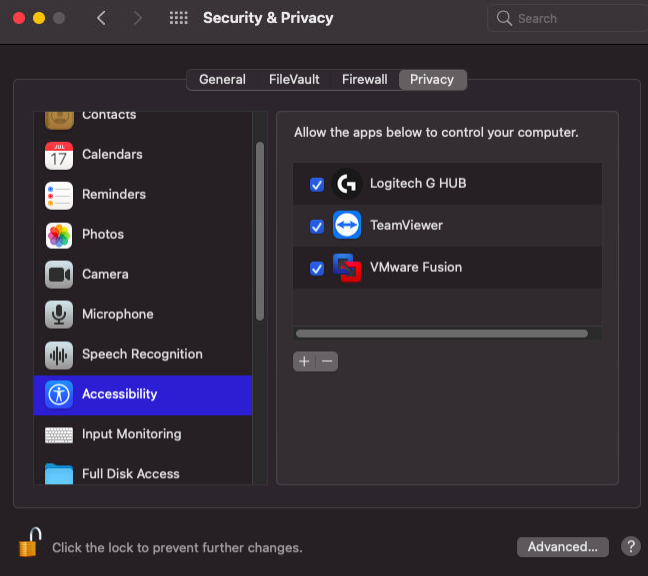 Creating a New VM and Installing Windows
Now that you have installed VMware Fusion, you are ready to create your first VM on macOS. Creating a VM with VMware Fusion feels familiar if you have used other virtualization platforms before, like VirtualBox or Amazon's EC2 platform.
Dual booting is a great way to run multiple operating systems on your computer, but it has disadvantages. Using a VM is your best option if you would like to try out Windows without dual booting.
To create a VM in your macOS via VMware Fusion:
1. Drag and drop your Windows ISO image to VMware Fusion's main window, which starts the New Virtual Machine assistant.
Note that the drag-and-drop method is strictly required for Windows ISO images. You can't use a .exe file since it is not a bootable image. You can use a .exe file with an existing VM, but that topic is out of the scope of this tutorial.
2. Next, click Continue once you see the ISO image you dragged listed in Choose Disc or Image section, as shown.
3. Set the Easy Install information for the new VM:
Use Easy Install – tick this checkbox to automate the VM installation process. This option uses all the default settings for the VM, which is perfectly fine for this tutorial.
Account Name – Set the user account name (or leave the default) that will be created during the Windows installation.
Password and Confirm Password – Provide and confirm your password for the new user account.
Windows Product Key – Input your valid Windows product key.
Select the correct version of Windows from the dropdown list, in this case, Windows 10 Pro.
Keep other settings at default, and click Continue.
4. Now, choose any of the integration levels for your Windows VM, which functions as follows:
Integration Level
Function
More Seamless
This option automatically shares the files and folders between your Windows VM and local macOS, accessible via the Finder app on macOS.

This option provides convenience but may decrease the security of your system. If a virus compromises your Windows VM, that virus may spread to your macOS.
More Isolated
This option automatically does not share files or folders between your Windows VM and macOS. The two OSes are completely isolated from each other, providing better security but may decrease convenience.
But for this tutorial, choose the More Seamless option, and click Continue.
5. Review the summary of your selected settings, and click Finish to create your Windows VM and start the installation process.
6. Click Save when prompted to save your VM. The Windows installation will now start on your VM.
7. Follow the on-screen instructions to finish the Windows installation on your VM. And once the installation finishes, you will see the Windows login screen (step eight).
8. Finally, enter the credentials for the user account you set in step three to log in to your VM.
After successful login, you will see the Windows Desktop on your VM, as shown below.
Conclusion
VMware Fusion is a great tool for running VMs on your Mac; easy to use and has a wide range of features. And in this tutorial, you learned how to create a VM using VMware Fusion, where you installed a Windows OS on your Mac.
Now, why experiment with different OSes and explore their features? Perhaps install other applications on your Windows VM and use them alongside the apps on your Mac?