Hello,
Adam here. You know, the Automator. I wanted to let you know contrary to the URL, ATA Learning isn't just about me and the things I write. It's also about so many other subject matter experts!
This platform is a place where system administrators, IT professionals, automation engineers, developers, and all tech geeks can learn. ATA Learning is all about learning and is the number one priority of all content we create.
ATA Learning is always seeking instructors of all experience levels. Regardless if you're a junior admin or system architect, you have something to share. Why not write on a platform with an existing audience and share your knowledge with the world?
Content We're Looking For
If you read the latest articles on this platform, you'll notice a couple of trends. You will be required to follow these trends if you are accepted into our instructor program.
Posts are about topics for sysadmins/DevOps professionals. This blog's primary audience is system administrators and DevOps pros. The topic you choose must be valuable to these core groups. Sorry, software developers!
Posts are long-form. Long-form posts (posts with > 1,500 words) are what readers are looking for. Readers want one place where they can learn all about a topic.
Posts are in-depth. We will never publish an article that skimps on the details. This is a technical, how-to blog; it's not a marketing fluff piece factory.
Posts are original. We will never publish a post unless it's 100% original and not published anywhere else.
Posts are technical. All posts have to be technical. Posts will typically be how-to articles teaching readers a skill or helping them to solve a problem.
Posts are conversational. Even though our posts are technical in nature, doesn't mean they have to be dry and dull.
Why Write for ATA Learning?
You will become a member of a community. When accepted, you will be onboarded into Slack, where you can converse with me and all of the other instructors.
You will have access to an established platform. This blog receives ~25,000 unique visitors/day. It took years to get to that point. Write content here, and thousands of people will immediately be reading your article.
Your content will be promoted. Through Twitter, Facebook, LinkedIn, and other sites, your articles will be promoted as heavily as possible to get the word out.
You will become a better writer. We take content very seriously. You will receive lots of detailed feedback from our seasoned editors. This is not a content mill where we take your article, edit to how we want and publish it. You will receive feedback on every article, helping you to become a better writer in the process.
You get the chance to demonstrate your skills. Employers love to see examples of your work. If you can write a well-thought-out article on a subject, you probably know what you're talking about.
You get full credit for your articles. Every article you publish will be clearly attributed to you and you alone. When I promote your article with my Twitter account, your Twitter handle will show up.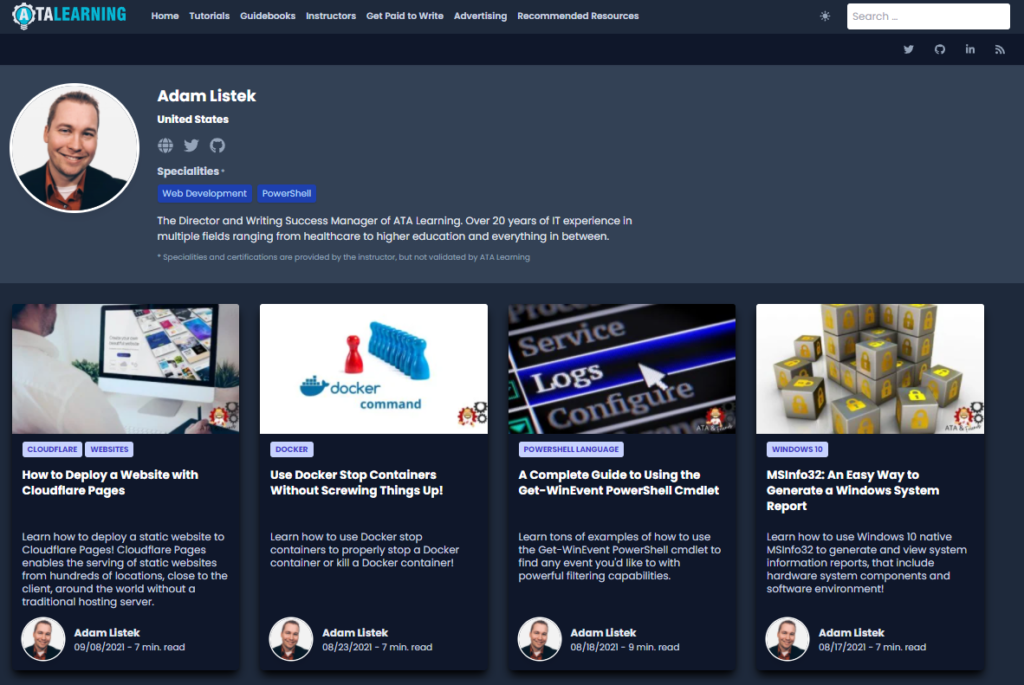 7.  You will have your own dedicated "bloglet". Every author has their own area including an RSS feed at https://adamtheautomator.com/author/<authorname>.

8. You get to see your traffic stats. You will have full access just as if this were your own blog to monitor how many people are reading your articles.
9. You will get paid up to $200 for a single tutorial and potentially passive income through our ATA Guidebook program!
Join Us!
Come join us by filling out the form below to get the ball rolling.
I hope you enjoy our content and we hope to be hearing from you soon!
-Adam Bertram