Adam the Automator (ATA) attracts highly educated, IT administrators, DevOps engineers, and developers with bottom-up influence over the purchasing process. As a distinguished authority within the IT, cloud computing, and DevOps space, visitors turn to us for content to help them learn new skills, tips, and tricks.
With an ever-increasing visitor base searching for solutions to their problems, we can help you connect with and reach the right kind of audience and generate targeted sales leads.
Site Stats
500,000 monthly visitors
800,000 monthly page views
Traffic Sources
92% organic
6% direct
1% social/referral
Top Viewership Countries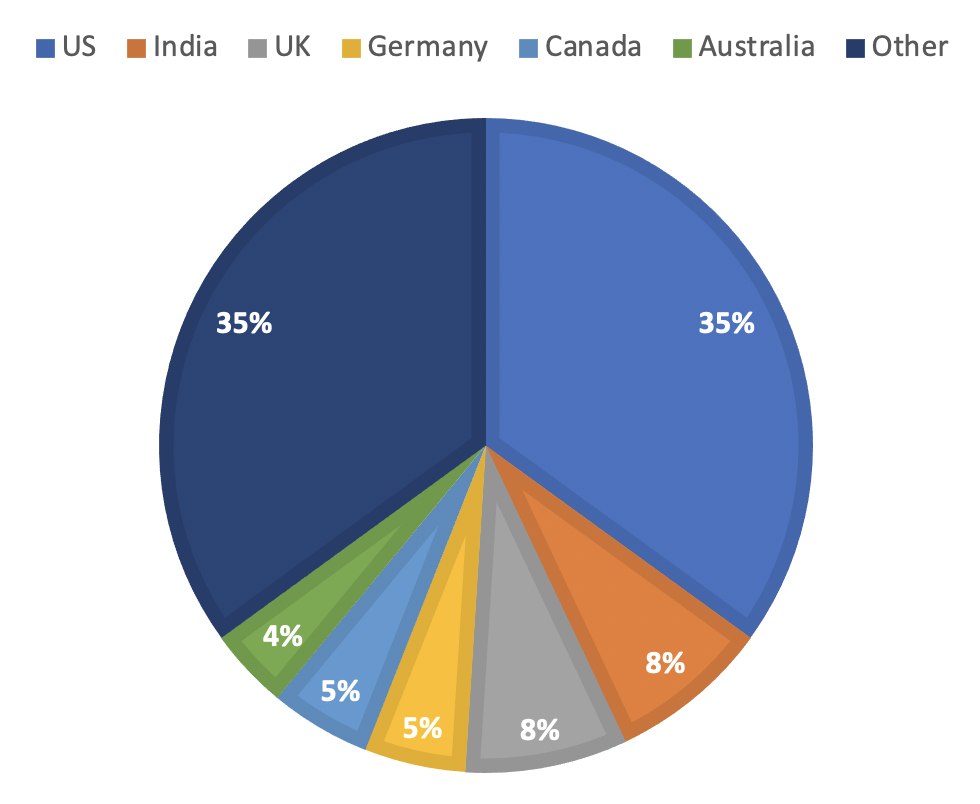 A real-time Google Analytics dashboard can be provided on demand.
Advertising Options
Here at ATA we have many different types of options to fit an advertiser's needs.
Sponsored Posts
Establish your thought-leadership credentials by taking your content to the forefront of the Adam the Automator audience! Provide us with your own content or hire Adam or an ATA Friend (industry expert) to create unique content on your behalf.
All sponsored posts will be tuned for SEO, receive the same social media promotion as our standard articles, and will remain permanently online. You can find a list of our current sponsored posts here.
Banner Advertising
Get your product or message in front of hundreds of thousands of potential customers with ad banners. Choose from a selection of many different banner sizes and locations to meet your needs.
| | |
| --- | --- |
| Location | Size |
| In post content | 728×90, 300×250, 336×280, 468×60, 320×50, 320×100, 728×250, 120×240, 250×250, 970×90, 300×300, 552×334 (native desktop content), 300×50, 970×250 |
| Footer | 728×90, 970×90, 320×50, 320×100, 468×60, 300×50, 1×1 (animated footer) |
| Sidebar (Sticky) | 300×250, 250×250, 160×600, 300×600, 300×1050, 336×280, 120×240, 320×50, 320×100, 300×420, 300×50 |
| Sidebar (Static) | 300×250, 250×250, 160×600, 300×600, 300×1050, 336×280, 120×240, 320×50, 320×100, 300×420, 300×50 |
All new banner sponsors will also be announced on social media.
Product Reviews
Do you have a product you'd like to get the word out to thousands of potential customers? Partner with us to build a product review for you!
All product reviews are written by Adam himself or an ATA Friend (industry expert) and are guaranteed to be top quality. We will review your product or services in a hands-on manner and provide our independent opinion.
Take a look at all of our past product reviews here. Our Learn with Me series has been a popular choice!
Email Advertising
To keep our readers engaged, ATA sends out a weekly summary of posts published to all subscribers. As an email advertiser, you get your message in front of thousands of readers!
Advertising Packages
Can't decide on how you'd like to advertise on ATA? Pick between all of our advertising options and change up advertising on a monthly basis. We're also open to creating a custom solution specifically for you too.
Packages are purchased on a quarterly basis and give you the ultimate flexibility on where your advertising budget goes at a reduced rate! A package allows you to test the waters and measure performance across all of our advertising options.
Interested? Contact us today at [email protected]!