Cleaning your Windows system is crucial to keeping it healthy and always on it's prime. But how exactly are you doing it? Deleting files or maybe uninstalling programs? These methods undoubtedly help a little but are there any fallback plans if something goes wrong? One option is the Revo Uninstaller.
Revo Uninstaller is a powerful utility that doesn't just give you security but also ensures everything from files, folders, and registry entries of a program is completely removed.
This tutorial will teach you all the things you need to know in keeping your Windows system clean with Revo Uninstaller. So sit back, relax, and enjoy exploring the vast features Revo Uninstaller can offer.
This post contains affiliate links. That means if you click on a link, ATA will get a commission on the sale price should you choose to purchase Revo Uninstaller Pro.
Prerequisites
To follow along in this tutorial, make sure you have all the requirements right down below.
A Windows 10 PC – The demonstrations in this tutorial were performed on a Windows 10 PC, but the methods will also work for Windows 7+
Revo Uninstaller – Download and install the latest version of Revo Uninstaller. There are limitations with the Free version, so go with a free trial of the Revo Uninstaller Pro version.
Google Chrome was used to demonstrate browser extension removal.
Removing Regular Applications
Windows 10 has a specific way to uninstall software; Revo Uninstaller's method isn't much different. So what makes Revo Uninstaller unique? You can create a Restore Point and Registry Backup as a fail-safe!
Let's cover how Revo Uninstaller works when uninstalling a single application.
Uninstalling a Single Program
Uninstalling a single program with Revo Uninstaller is pretty straightforward. What's unique about this process though is that it also lets you choose which files, folders, and registry items you want to keep or delete.
To uninstall a single program:
Launch Revo Uninstaller and click on the All Programs button at the left panel, like shown in the screenshot below.
2. Select the program you want to remove and click on the Uninstall button at the top part of the left panel.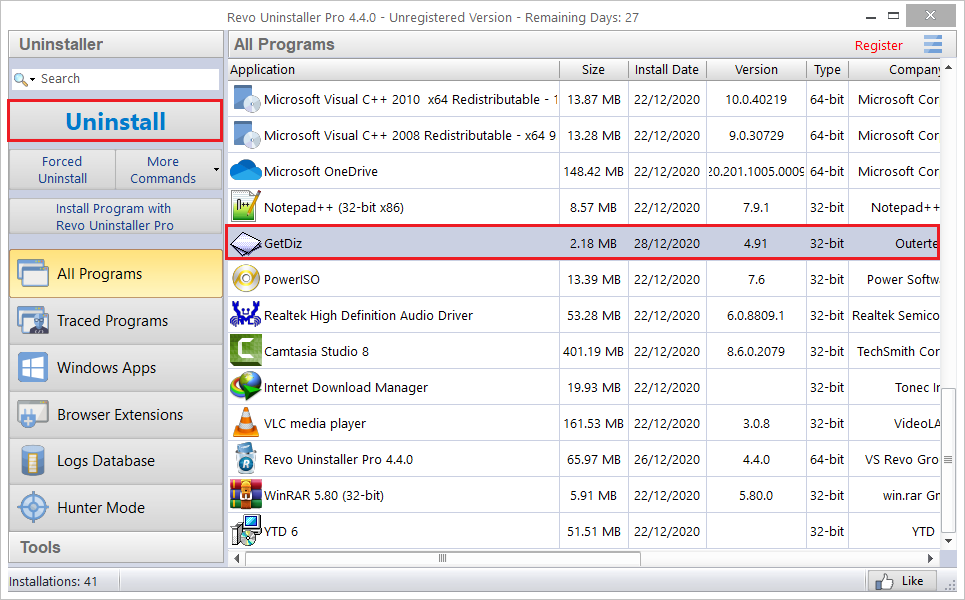 3. You'll see a pop-up screen, like the one below, asking to confirm uninstalling the program you selected. Ensure that the two options at the lower-left part of the pop-up screen are enabled to create a Restore Point and Registry Backup. Click Continue to proceed to uninstall the program.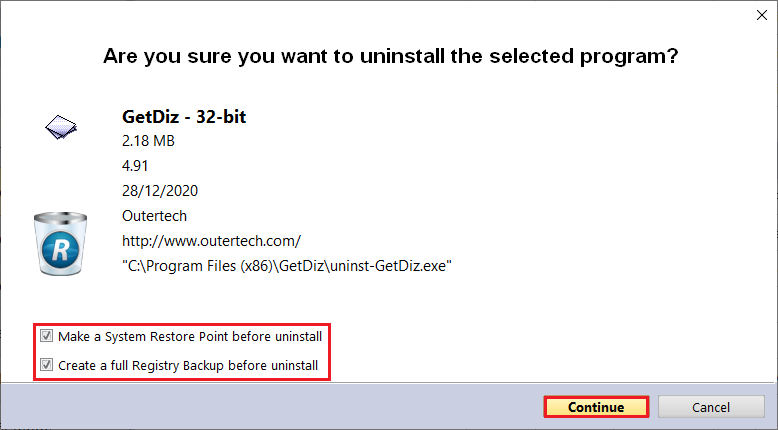 4. Once the removal is done creating a restore point and registry back up, it will run the selected program's default uninstaller. After uninstalling the program, click on Continue to scan the registry.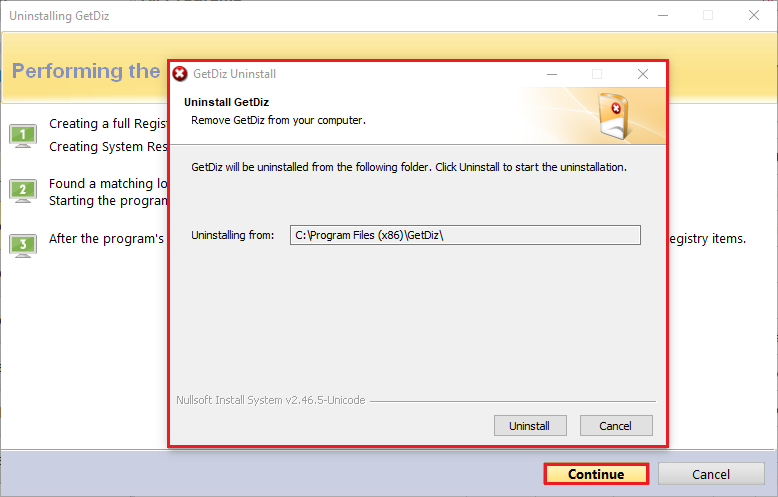 Scanned registry item leftovers will be compiled on a list, as you see in the following screenshot. Select the items that you want to remove and click on Delete. Now click Next to proceed scanning leftover files and folders.
Do not delete the Registry Keys (red labels) as they also contain registry items for other programs in your system. Delete only the items that are in bold black labels.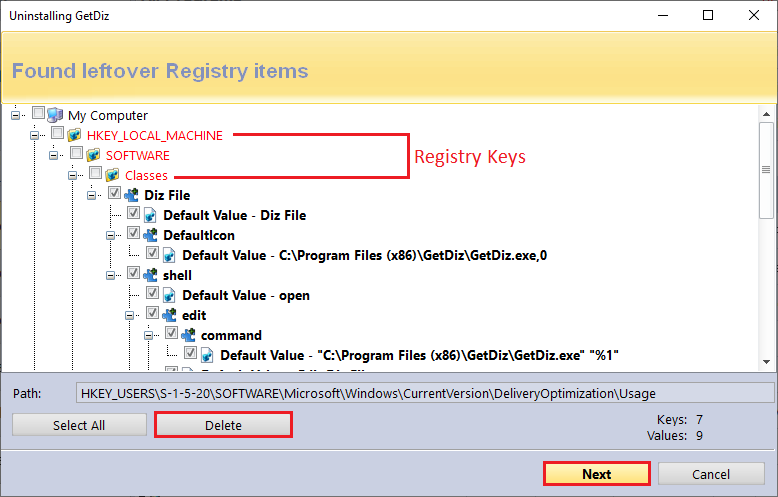 6. Next, you'll also get a list of all of the leftover files and folders on the system from the application. Put a check on the items you want to delete and click Delete to erase them. Now click Finish, and you're good to go.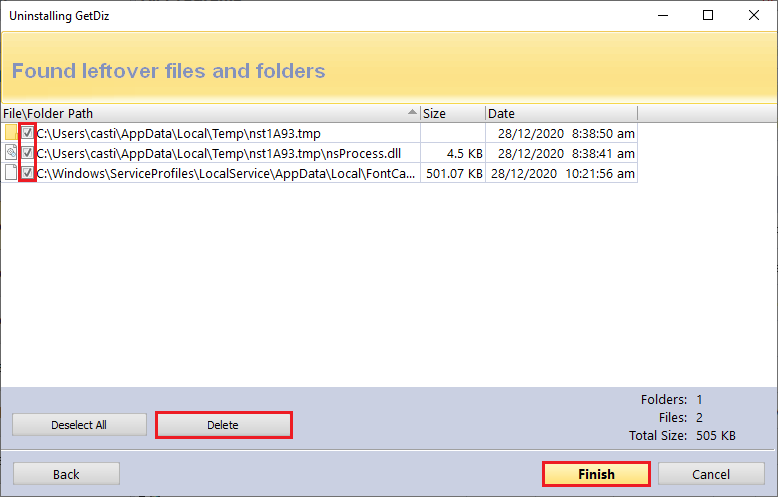 Uninstalling multiple programs does not prompt a list of leftover items to delete but deletes them automatically instead. By default, Registry entries are backed up, and any deleted leftover files and folders are moved to the Recycle Bin. The default backup folder is C:\Users\%UserName%\AppData\Local\VS Revo Group\Revo Uninstaller Pro\BackUpsData\
Removing Windows Applications
Nowadays, PCs have tons of pre-installed programs, also known as bloatware, that you can't remove using regular uninstaller software. Luckily, VS Revo Group added a feature in Revo Uninstaller that lets you remove built-in Windows Apps from the system.
To remove any Windows app, launch Revo Uninstaller, then follow these steps:
Click on the Windows Apps menu at the left menu panel as shown below.
2. Select a Windows App that you want to remove and click the Uninstall button.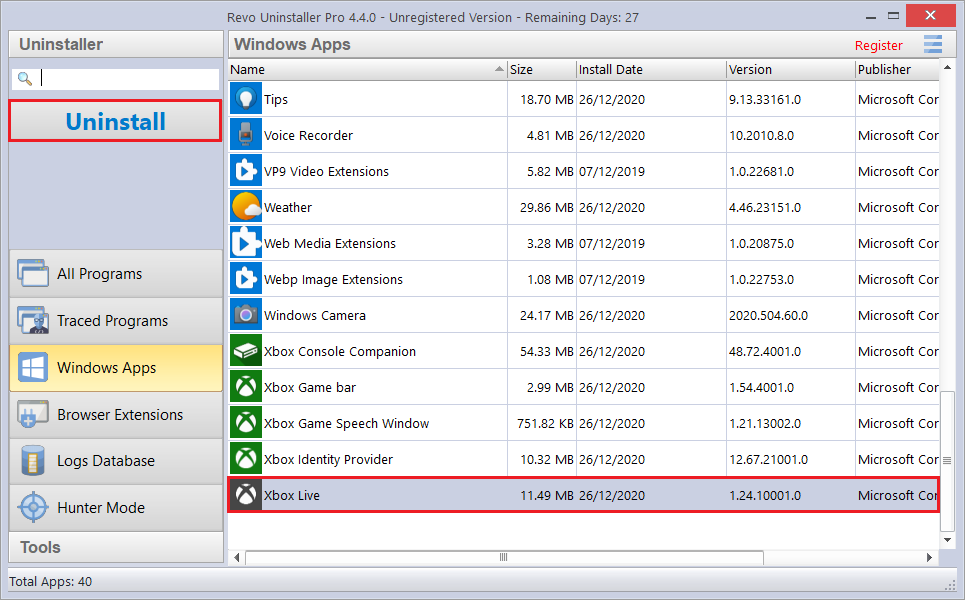 3. Now instead of launching a program's default uninstaller, Revo Uninstaller will use a PowerShell script, as demonstrated below, to remove the Windows Application selected.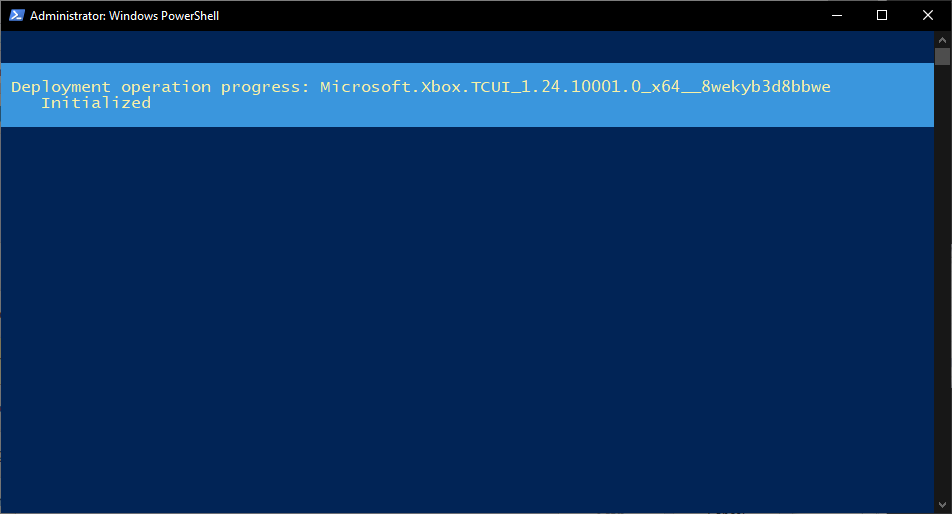 4. Once PowerShell is done uninstalling, click the Scan button to scan for leftover files, folders, and registry items. The rest of the process is the same as uninstalling regular programs.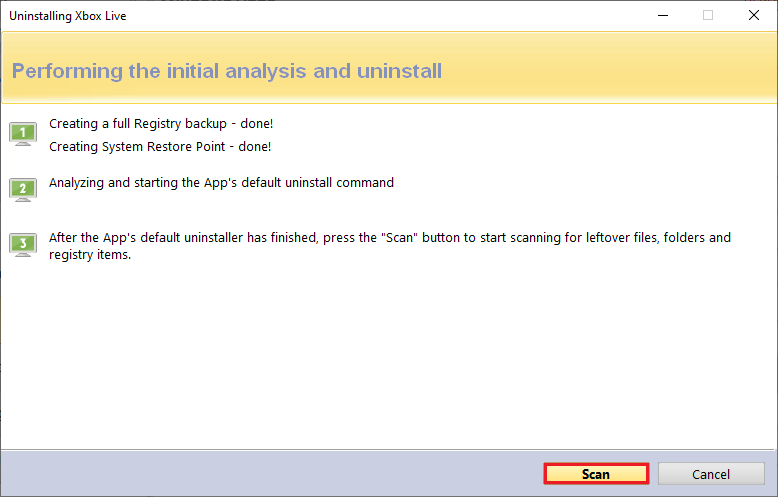 Being able to remove built-in applications makes Revo Uninstaller truly powerful, but that's not all. The next section explains how to remove programs that are not listed, both in Windows built-in uninstaller and Revo Uninstaller.
Cleaning Problematic Applications
What if you can't find a program you'd like to remove in Windows built-in uninstaller or maybe the program's default uninstaller is not functioning properly like in the screen below?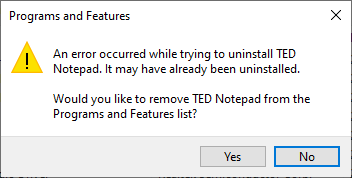 Revo Uninstaller has the Forced Uninstall feature that will resolve your problems uninstalling programs. This feature lets you manually scan for leftovers of the program you're trying to remove. Forced Uninstall is also helpful in case a program installation failed or gets corrupted.
To start forced uninstalling programs from the system:
Click on the All Programs section and click on the Forced Uninstall button. You will see a popup window.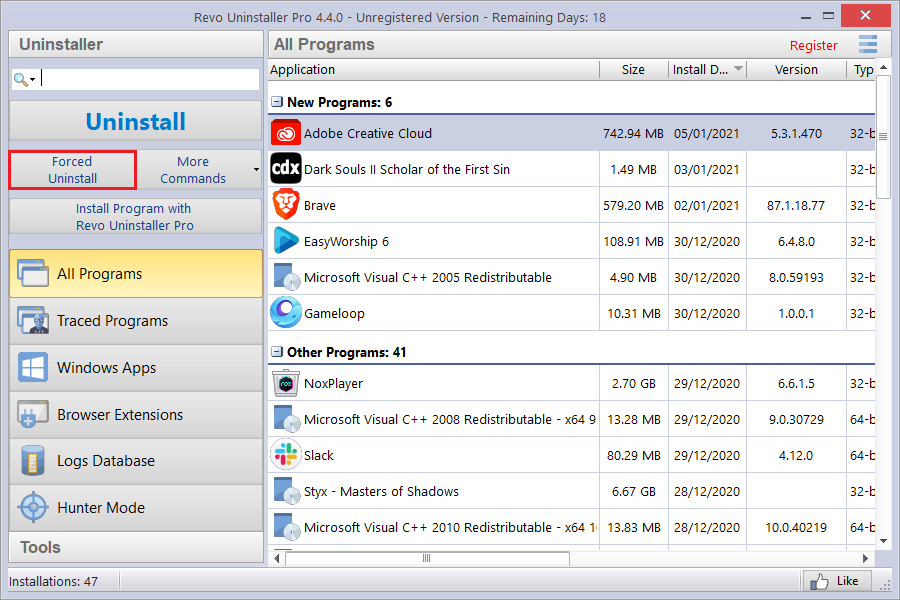 2. In the popup window, you'll see two options to search for the program you want to uninstall. The first option is by typing the program's exact name on the textbox labeled as Program's exact name. The second option is by clicking on the Browser for button and look for the executable (.exe) file of the program.
Once you find the program, disable the Run the selected built-in uninstaller option
Choose the Advanced option under Scanning modes. The Advanced option lets you choose which files, folders, and registry entries to delete or keep.
Click the Next button to start scanning for leftovers. After scanning, the rest of the process is the same as uninstalling regular applications.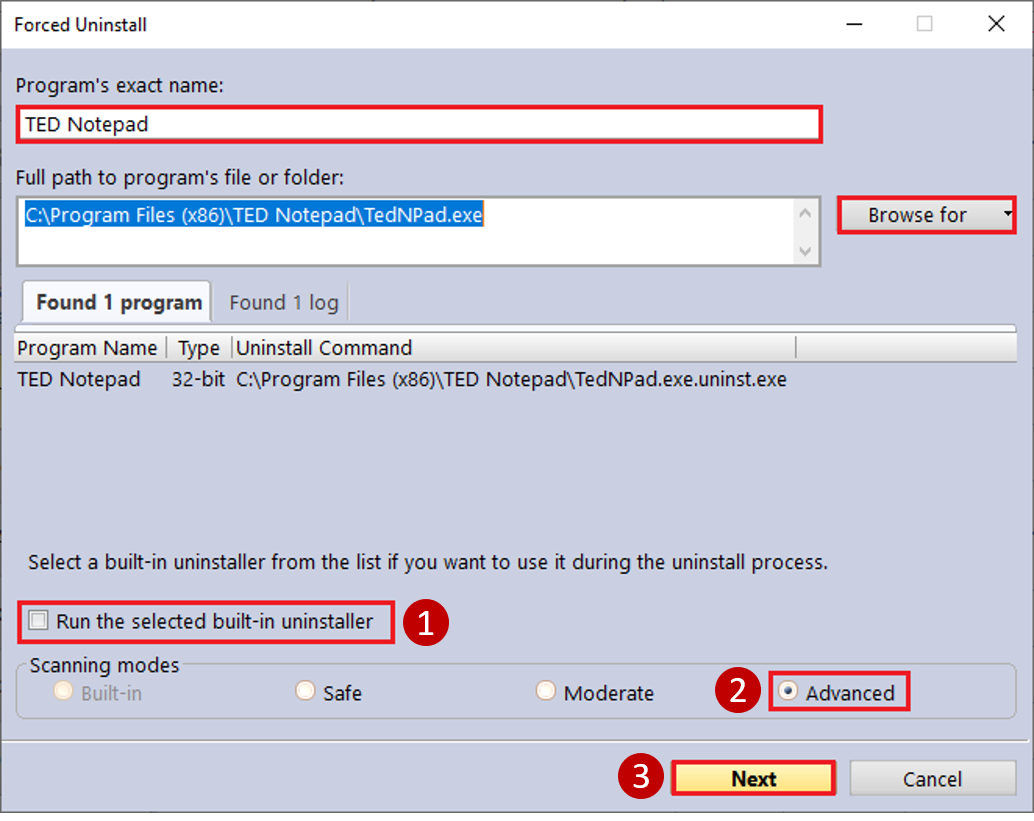 The Forced Uninstall feature is handy in terms of flexibility. Now the next section demonstrates another feature that is focused on flexibility.
Turning On Hunter Mode
Another unique feature of Revo Uninstaller is the Hunter Mode. This feature is focused on flexibility as it enables you to uninstall any programs that you see on your desktop or in file explorer.
To turn on Hunter Mode, click on Hunter Mode at the left-panel. The main window will close, leaving an icon at the top-right corner of the screen.
If you see a program you want to uninstall, as demonstrated below, drag the Hunter Mode Icon to that program and choose Uninstall from the context menu. These steps will execute the Forced Uninstall feature.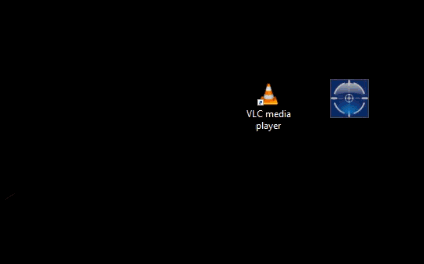 Removing Browser Extensions
Aside from the extensions you installed in your web browser, like Google Chrome, there are also built-in extensions that you can't see or remove.
The fewer extensions you have, the better performance you'll get from your browser. And the good news is that Revo Uninstaller offers a feature where you can remove browser extensions at will.
As shown in the screenshot below, click on the Browser Extensions menu to see the list of browser extensions for each web browser you have installed. Select an extension and click the Remove button to remove it from your system. Easy peasy.
You can see that Revo Uninstaller can handle both Windows 10 applications and browser add-ons!
Temp File Cleanup, History Cleaner, and more!
Revo Uninstaller can not only uninstall applications but also has a few more handy tools built-in including:
Autorun Manager – This tool controls which programs to run on Windows startup
Junk Files Cleaner – As the name suggests, this tools helps cleaning junk files from the system
Windows Tools – Lets you access Windows System Tools in one place
History Cleaner – Cleans history logs for Browsers, MS Office and Windows
Evidence Remover – Permanently deletes confidential data that are still recoverable
Unrecoverable Delete – Permanently deletes files and folders from your storage device
All of these tools are found under the Tools section as shown below.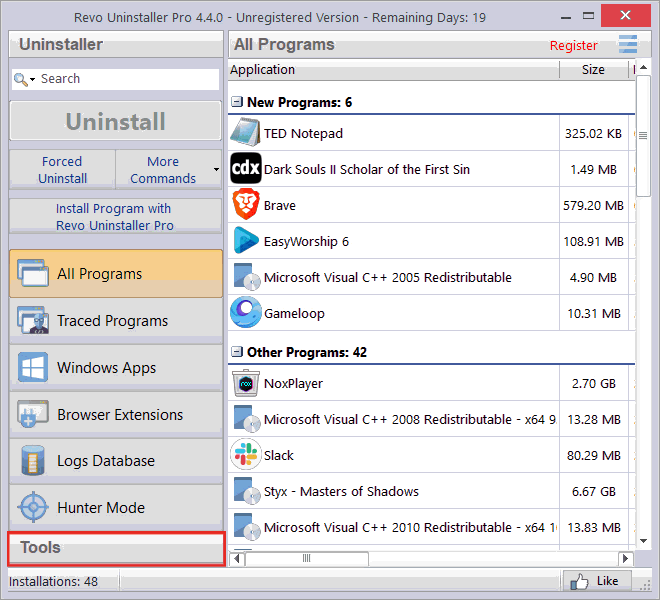 Let's now briefly cover each tool available.
Managing Windows Startup Programs
Autorun Manager lets you manage which programs to run when Windows starts up. Disabling programs from the Windows startup helps lessen consumed memory in the system.
Put a check on the program from the list and click Disable.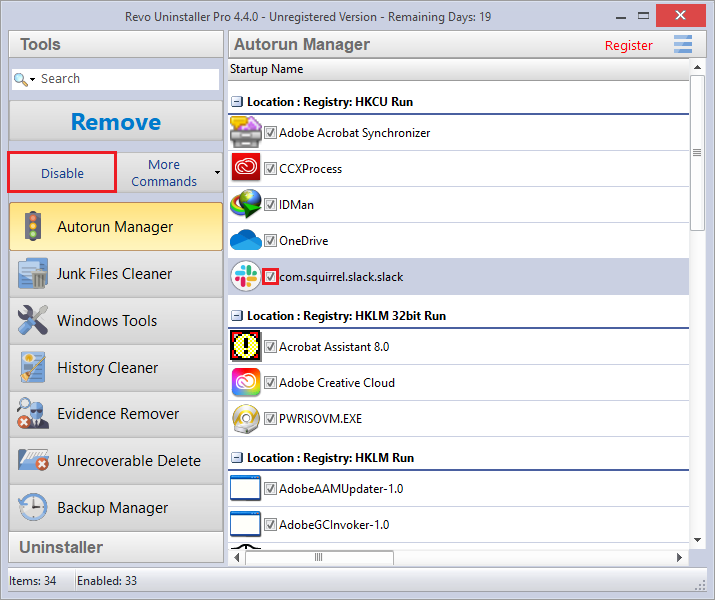 Disabling unwanted programs in the Windows startup helps you get better performance in the system. You will also learn to clean junk files in the following section.
Cleaning Junk Files
Junk files tend to pile up over time, and aside from consuming space on your storage device, they also affect your system's performance. This is where the Junk Files Cleaner comes in play to remove unwanted temporary files from your system.
To start, put a check on the drive you want to scan like shown below.
2. Click on the Scan button to start scanning junk files. The process will take time, depending on your computer's processing capability.
3. After scanning, you'll see a list of junk files from different locations in the system, as shown in the screenshot below. You'll also see the Total Size of the files at the bottom part of the main window. Click on Delete to clean up your system from the junk files selected.
Imagine how much space you can clear up just by cleaning up the junk files. There are Windows tools that are definitely worth the try, and you'll know where to access them after this.
Accessing Windows Tools
Revo Uninstaller also has a container included for the Windows System Tools. Some of those tools also help with cleaning your system, like Disk Cleanup. See the list of Windows Tools you can access via Revo Uninstaller in the screenshot below.
Aside from accessing Windows tools to clean up your storage, there's also a tool in Revo Uninstaller that lets you clean history logs. The following section demonstrates how to use the History Cleaner.
Cleaning Browser, MS Office and Windows History
The system continually keeps track of the things you're doing, like file search, opening or saving files, and launching applications. Want to keep the confidential things you do in the system private? Then this tool is all you'll ever need.
The Browser, MS Office, and Windows History Cleaner have their own tabs that you can access at the top portion of the main window. You can either select items from each tab individually and click the Clear button or clean all history by clicking on the Clear All button.
Knowing you're able to keep your history logs confidential is a relief. Speaking of confidential, you'll find the tool in the next section engaging in terms of deleting confidential files.
Permanently Removing Deleted Files
Even if you emptied the Recycle Bin, deleted files are just marked deleted but not physically removed. The Evidence Remover tool overwrites the confidential file's data, so they are not at risk of being recovered by anyone.
To permanently remove deleted files, put a check on the drive to scan and click on Execute. The process time will depend on size of the drive and the computer's processing speed.
Permanently Deleting Files
To avoid using the Evidence Remover as it takes too much time to complete, make it a habit to use the Unrecoverable Delete tool when deleting files and folders.
To delete files and folders, you can either click on the Add File(s) or Add Folder; or drag and drop them to the blank space as shown below. Then click on the Delete Forever button to completely erase traces of the items from the list.
After deleting files and folders using the Unrecoverable Delete tool, you can rest easy as there won't be a risk of someone else recovering them.
Next Steps
Now that you've learned many ways to keep your Windows system clean, time to know more about the Revo Uninstaller by reading the FAQs as well as the Command Line Support.