Do you have a macOS computer for work or school and need to install Microsoft Teams for Mac? There are times when your IT department may install the platform before handing the computer to you, but not always.
In this article, you'll learn how to install Microsoft Teams for Mac. You'll also learn how to login to your account and customize the Teams client to help you get started.
Prerequisites
To follow along with this tutorial, you will need to meet the following requirements.
A computer that runs one of the three most recent versions of macOS. As of this writing, the latest macOS version is macOS Big Sur (11.2.1). If you need to find out which macOS version you have, read how to Find out which macOS your Mac is using.
A Microsoft Teams account which you will use to log in to the platform. If you're using Teams for work or school, you probably already have an account provided by your IT department.
Your computer user account must be an administrator. Installing it requires you to have admin privileges on the computer. If you want to know whether you have an admin account, visit How To Check If You're An Administrator.
Downloading the Microsoft Teams Installer
When you've squared away the requirements, then you're ready to proceed to install Microsoft Teams for Mac. In this section, you'll learn how to download the Microsoft Teams for Mac installer from the official source and perform the installation.
For any software installation, the recommended place to get a copy of the installation files is from an official source (or sources). Although, for some organizations, the IT department may provide the installation files to their users.
In this example, you'll download the Microsoft Teams for Mac installer package from Microsoft. Follow the step-by-step instructions below to begin.
Using your web browser, navigate to the Microsoft Teams download page. This example uses Safari as the web browser.
2. Once on the Teams website, scroll down the page to see the only available download option appropriate for your computer's operating system.
3. Click the Download Teams button to start the download.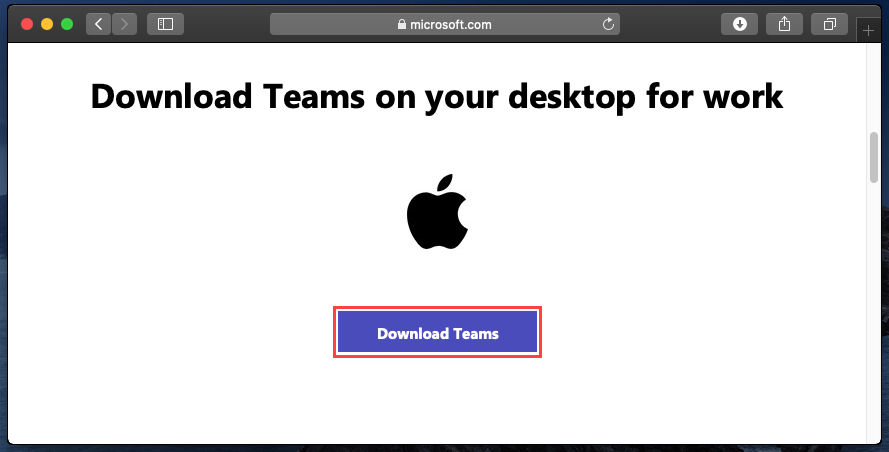 4. Once the download finishes, the installation file, named Teams_osx.pkg, will be in your default download location.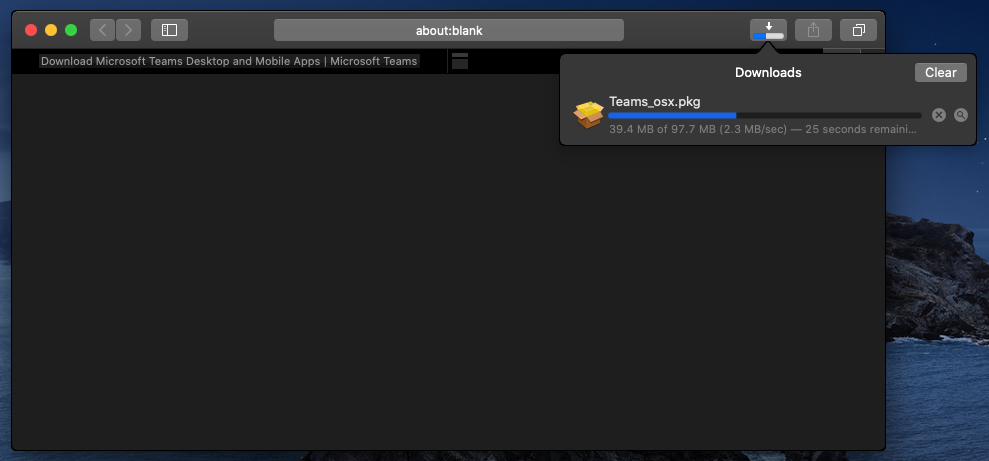 Good job for finishing the first step! Now that you've downloaded the Microsoft Teams for Mac installer, you're ready to go to the next step, which is to install Teams.
Running the Microsoft Teams Installer
After downloading the Microsoft Teams installer, click the file from the Downloads list in Safari. Then, as you can see below, and the installation will begin.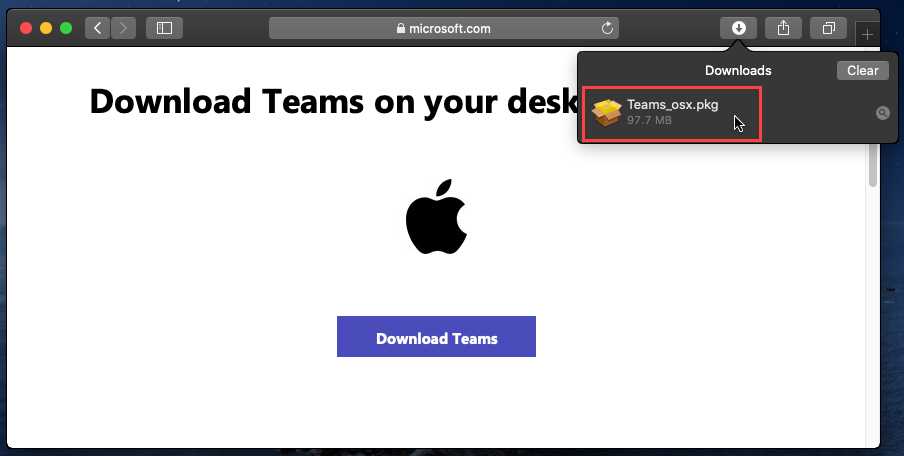 If you downloaded the Teams installer but plan to install it later, you can locate the Teams installer in the default download location, which is the Downloads folder in Finder, as shown below.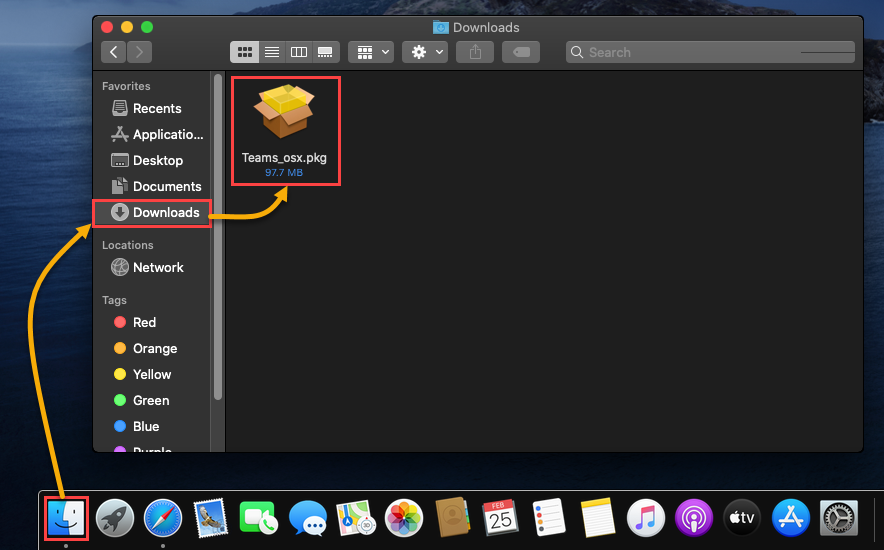 Installing Teams for Mac
Once you have located the downloaded Microsoft Teams folder, it's time to begin the installation of Teams. To do so:
Click the Teams_osx.pkg file in Safari, or double-click the file in Finder to begin the installation.
2. Once the installer starts, the first page you'll see is the Introduction. The page only serves as a welcome page, and there's no action required. Click on Continue to proceed.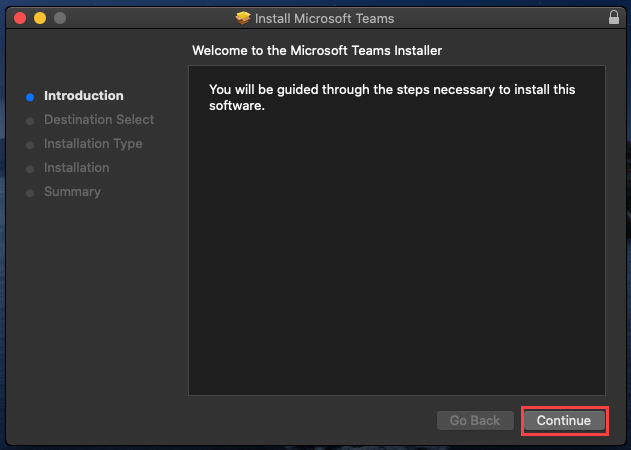 3. On the Installation Type page, you'd have the option to change the install location. However, the installer already selects the default install location. Click on Install.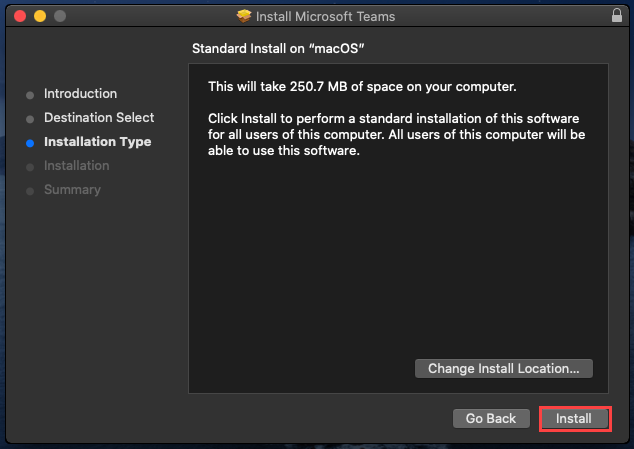 4. Next, you will be asked to authorize the Microsoft Teams installation. To allow the installation to continue, enter your username and password, then click on Install Software.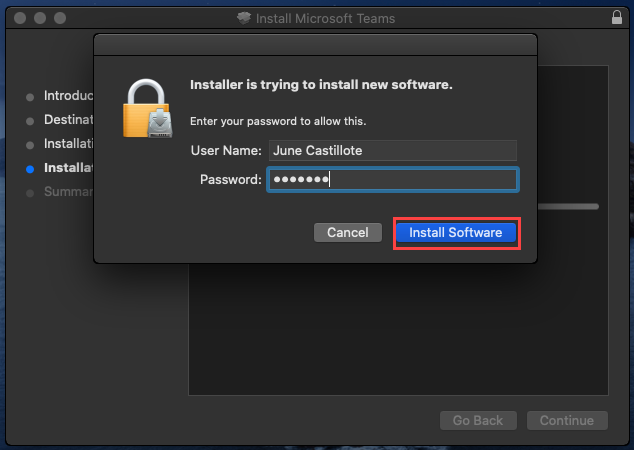 5. When the installer is finished, you will see a confirmation message in the Summary window. Click on the Close button to exit the Microsoft Teams for Mac installer.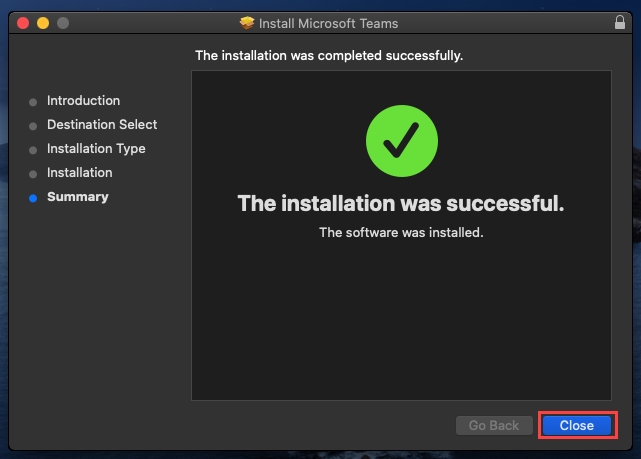 6. Lastly, the installer will ask you whether to keep the Microsoft Teams for Mac installer package or move it to the trash. If you do not need the installer anymore, go ahead and click Move to Trash.

Starting and Signing-in Microsoft Teams for Mac
Now that you've installed Microsoft Teams for Mac, there are only a few more steps before you can start using it. In this section, you'll learn how to launch Microsoft Teams and sign in to your Teams account for the first time.
Option 1: Starting Microsoft Teams from the Applications Folder
After installing apps in macOS, an icon for the app typically appears in the Applications folders. The same is true after installing Microsoft Teams. Follow the steps below to launch Microsoft Teams for Mac from the Applications folder.
Click the Finder icon located on the dock.
Once the Finder window is shown, click on the Applications folder in the left pane.
Then, look for the Microsoft Teams icon on the right pane and double-click the icon to launch.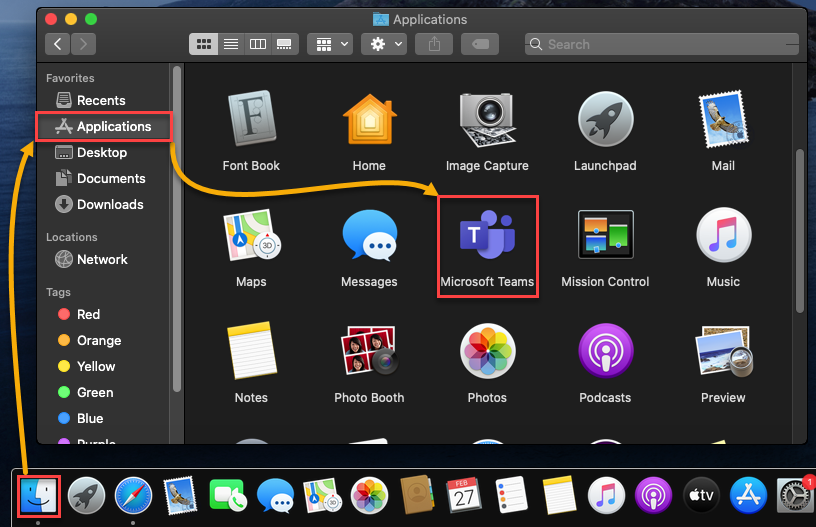 Option 2: Starting Microsoft Teams from the Spotlight Search
Another way of finding installed apps in macOS is through the Spotlight search. If you are a user who would rather type search terms instead of clicking-through windows and icons, then this option to launch Microsoft Teams may suit you best.
On the desktop's upper-right corner, click on the magnifying glass icon to bring up the Spo
tlight search window.
Start typing "Microsoft Teams" in the Spotlight search box. You should immediately see the search results as you type. Look for Microsoft Teams in the search results and double-click on it to launch.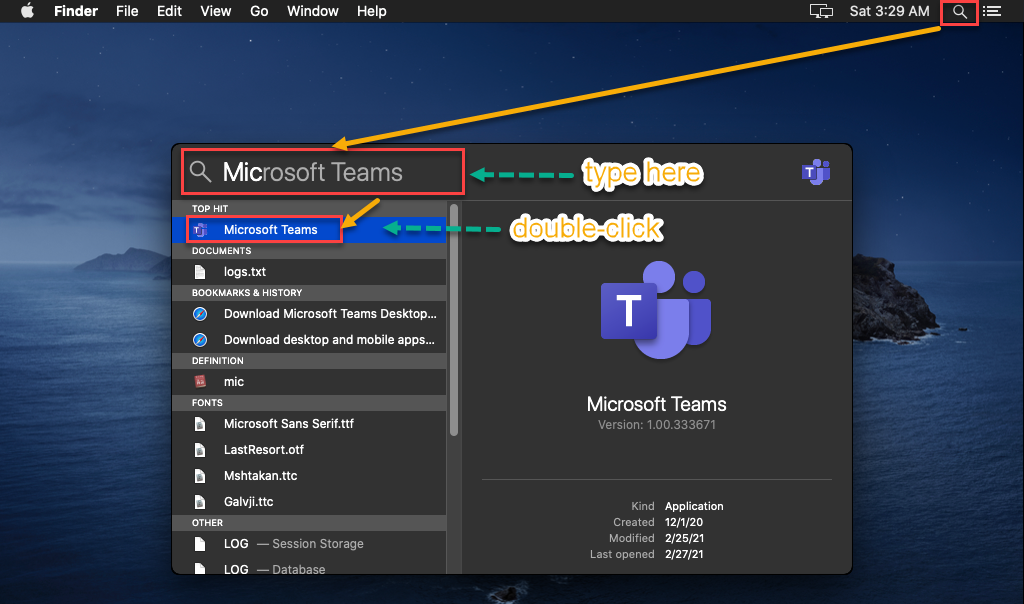 For ease of future access, consider adding the Microsoft Teams app icon to the Dock.
Signing-in with your Microsoft Teams Account
Now that you've launched Microsoft Teams, the next step is to go through an initial setup that involves signing-in using your Microsoft Teams account.
If your organization has enabled multifactor authentication (MFA), your login experience will vary. With MFA, you may need to pass two or more authentication methods.
Once you've launched Microsoft Teams, you'll see the Welcome to Microsoft Teams! page first. Click on the Get started button to proceed.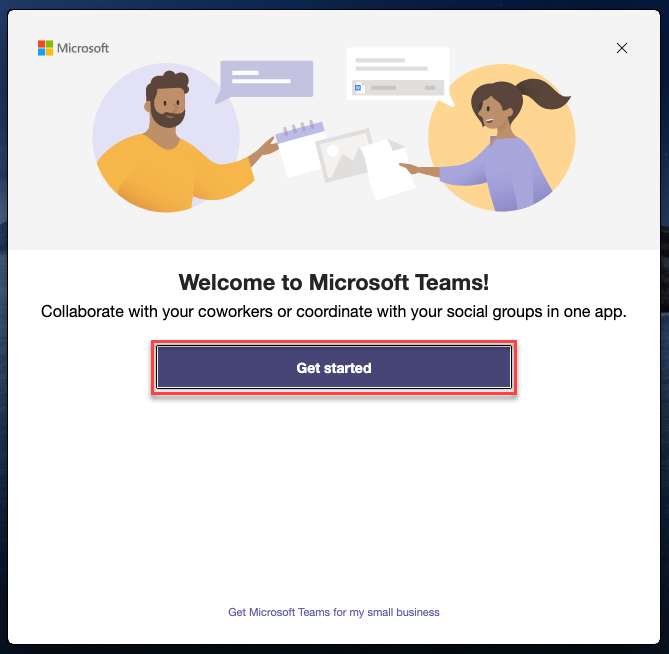 2. The next page will ask you to enter your email address. Enter your Office 365 email address in the Email address field and click on Next.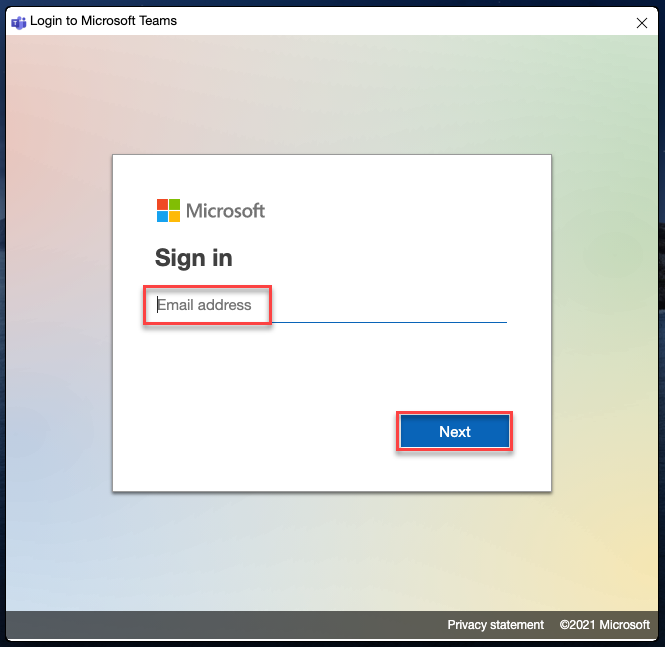 3. A new window will show where you must enter your password. Enter your Microsoft Teams account password and click on Sign in.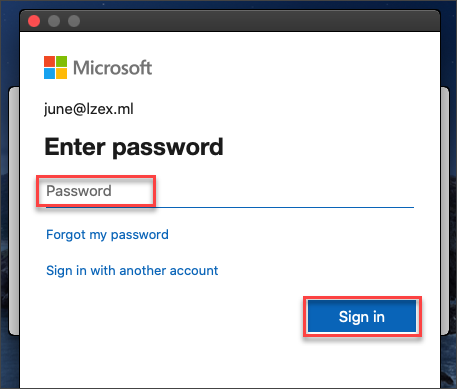 4. As shown in the screenshot below, wait for the sign-in process to complete, and you should see the Microsoft Teams window.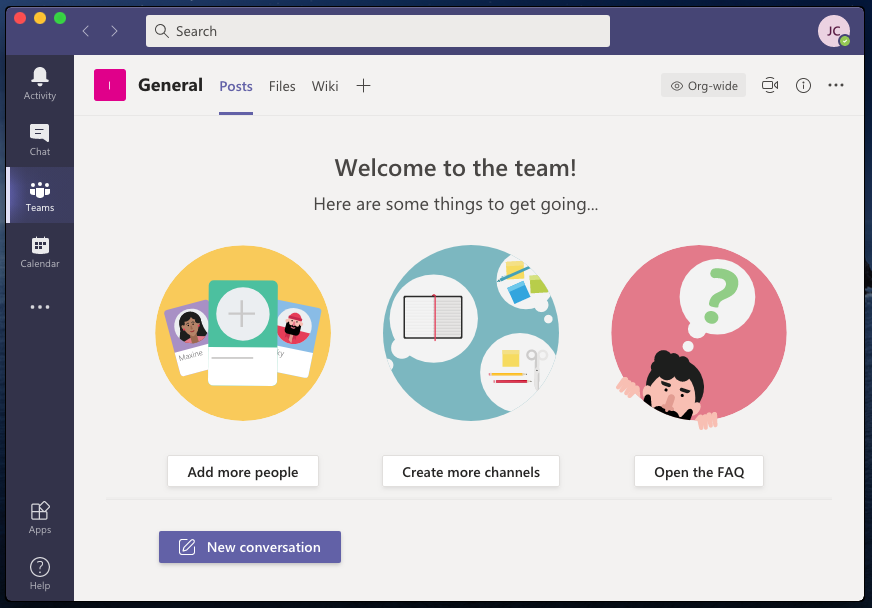 Configuring Microsoft Teams Settings
So you've logged in to Teams. Now what? If you're new to Teams, you could investigate the settings you can tweak. Settings like the display theme, notifications, privacy, and more.
To open the Microsoft Teams settings, click on the menu button with your initials at the Microsoft Teams window's upper-right corner.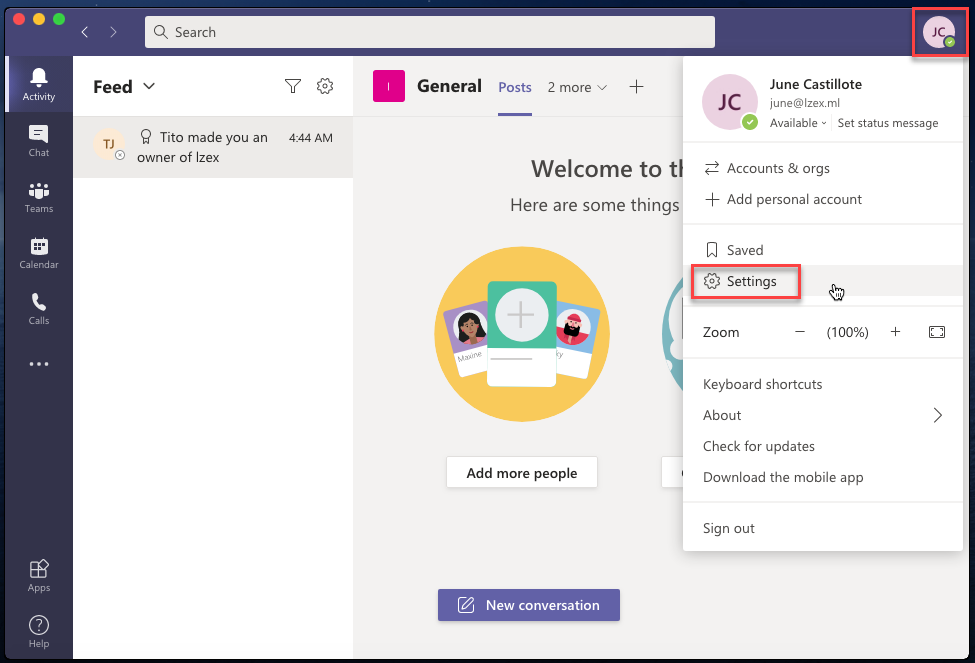 Changing Privacy Settings
One of the first settings you may consider changing is how Microsoft Teams handles your privacy. To change privacy settings, go to the Privacy menu in the Settings window. Then, you'll see a similar window as the screenshot below.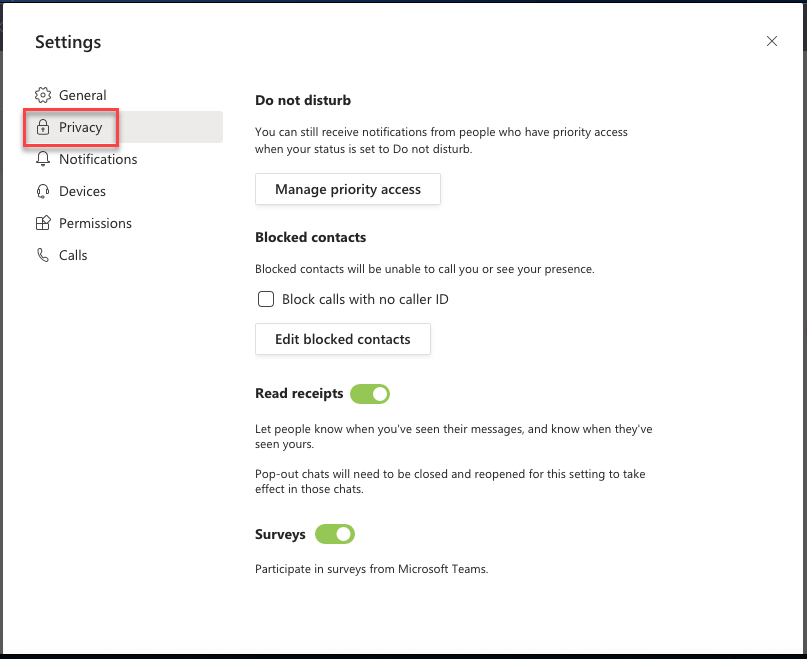 Microsoft Teams for Mac has several settings to help with your privacy preferences. Suppose you want to hide your presence. Or perhaps you don't want others to know you've read their message. Microsoft Teams has got you covered.
Do not disturb – This gives you the option to save a list of people who may still contact you even when your status is set to Do not disturb.
Blocked contacts – This setting allows you to manage the list of contacts that you previously blocked. Blocked contacts are unable to see your presence and call or mention you in a one-on-one chat.
Read receipts – Switch this setting on or off depending on whether you want people to know that you've read their message.
Surveys – When this setting is switched on, you may receive surveys from Microsoft Teams.
Setting Auto-Start, Theme, and Display
The default Microsoft Teams appearance may not be to your liking. Or perhaps the transitions and animations are causing performance issues. Luckily there are several display customizations available to you in Microsoft Teams.
As shown before, navigate to the General settings section in the Settings window's left-hand side. Listed below are several client settings available to customize.
Theme – Microsoft Teams comes with three themes; Default, Dark, and High contrast. Choose your preferred theme by clicking on the theme thumbnail. As you can see below, the active theme is Dark.

Auto-start application – If this setting is on, Microsoft Teams will automatically start when you log in to your computer. The auto-start default setting is turned off.

Turn off animations – Animations apply to window transitions, scrolling, menu pull-downs, GIFs, and so on. Sometimes animations such as these are unnecessary. If you want to disable animations, check the below setting.

Turning off animations does not disable Microsoft Teams' capacity to play GIFs. However, GIFs do not auto-play anymore when animations are off.
Next Steps
Microsoft Teams is an excellent collaboration tool that is available in macOS as well as on other platforms. In this article, you've learned how to download and install Microsoft Teams. You've also learned how to log in and perform the initial configuration of Microsoft Teams settings.
Now that you have installed and configured Microsoft Teams, you can start exploring the different Teams features you can use. Below are some recommended features for you to explore.
You can also learn more by visiting the Microsoft Teams help & learning website. Thank you for reading!