Full Disclosure: This is a sponsored post for a GoverLan review from a valued partner, Goverlan. All content is my own and the only input Goverlan has had to this article is to clarify technical inaccuracies and a minor comment on the user interface.
As a PowerShell developer, I've been in the business of creating PowerShell scripts to manage systems for years. I've built remote systems management scripts and modules to do just about everything you can think of. It's what I make my living doing.
Although the payoff feels great when I'm done with a script, the time required to write up some level of automation for a task can be intense. Writing PowerShell scripts to query WMI across hundreds of machines, running reports or making enterprise-wide changes can be hectic.
Most IT professionals are on the boat I was just a few years ago – wearing lots of hats,
extinguishing fires, and just getting stuff done. They know automation is the way to go, but they don't always have the luxury of time.
Goverlan Reach is a very powerful tool that can solve that problem. It resembles the big tools like System Center Configuration Manager, LanDesk, and Symantec Endpoint Management but is much lighter, easier to set up, and with real-time data. Think of Goverlan Reach as a one-stop-shop for gathering information and running tasks on all of your remote Windows systems.
One of the key features that struck me while reviewing GoverLAN the most is how Goverlan leverages Active Directory for a lot of various functions. For example, the onboarding of devices for unattended management is automatic and silent for internal nodes.
You can manage passwords in bulk, implement user password policies at the enterprise-wide level, and reset locked accounts. Reporting is available on user login history, password age, computer identity information, and folder permissions.
You can even build customized user account provisioning templates, and apply them to new user accounts, while automating all the follow-up tasks for new user provisioning including permissions, mapped drives, and more!
Setup
Setting up Goverlan Reach was a breeze. It took me about an hour total, and that was even with the optional server included. Did I mention that Goverlan Reach doesn't require a server to be set up? It gives you some additional functionality but you can just get by with loading the console on your local computer.
Although it's possible to manage non-domain computers, it's easier to get started on a domain-joined Windows machine. I made sure my Windows client and server were in the same domain.
Once you've got your 30-day free license setup, the download and install process is the same process you're used to. Click next a bunch of times for the Goverlan console installer on a client computer (Windows 10 in this case) and do the same for the server component (Windows Server 2012 R2). Just be sure on the server-side that you configured a service account otherwise the server will not startup.
Agent Deployment
Once you've got the console and the server setup, you'll need to deploy some agents. Goverlan says that the agents are passive and lightweight. From my limited demo, I did see that the installation was quick and the agent wasn't consuming many resources at all on my clients.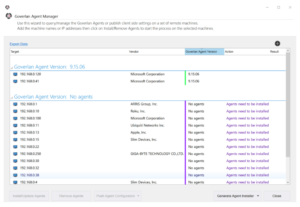 The agent deployment is a two-step process – discovery and installation.
GoverLAN Reach has a few different ways to figure out what's on the network. I did run into some minor issues where it wasn't picking up the hostname when I could resolve it via my client
though.
Once the discovery has run, you can then push the agent to the machines via a simple point-and-shoot process. Although I did have a time when I forgot to deploy an agent and just assumed one was installed to find out that it will check for an installed agent first. If an agent is not on a machine, it will optionally prompt you and just go ahead and install it. This is nice since it makes the agent deployment process seamless.
Features
Once GoverLAN was set up for my review, I then checked out some of its features. Some of the big ones are:
Proprietary remote control (seems to be snappier than RDP)
Ad-hoc management tasks (querying anything in WMI remotely, managing services, file shares…just about everything!)
fastConnect – a feature that allows you to target users rather than computers
Microsoft LAPS support was just released to provide seamless authentication to machines without needing to know the local administrator password.
..and my favorite Process Automation.
There are way too many features to go into depth here. I recommend you download a trial for yourself and take a look. You really can just install the console and begin picking computers from Active Directory right away. Right-click and be presented with a slew of options.
Options include:
Account Management
Update Group Policies
Programs
Windows
Local Users and Groups
Local and Mapped Drives
Printers
Services
Device Manager
Shared Folders
Environment Variables
Send Popup Message
Chat
Remote Control
Task Manager
Remote command prompt
File Manager
Remote script execution
WMI actions
…and a few more.
The Process Automation piece was cool. That feature is like a little automation engine. It allows you to set up various tasks and execute them at once with if/then logic and all.
Whenever I was playing with it, to me, it resembled the build tasks that I use with Team Foundation Server. I would search for a pre-built task, drop it in the workflow, and repeat it until I pieced together a full process automation workflow.
I then need to target the computers or users I wanted to execute all of these steps against and make it happen.
Cost
Before I go into the cost, Goverlan is one of those companies that actually put the cost of their product on their website! I know. Crazy, right? They provide a subscription model with prices ranging from $29/month/user to $129/month/user depending on the number of features you receive.
Summary
Overall, I was impressed with Goverlan Reach. It was easy to set up, packaged up tons of everyday remote-management tasks into one, and its tight integration with Active Directory allowed near-seamless targeting to both logged-in users and computers. But it did have some minor imperfections.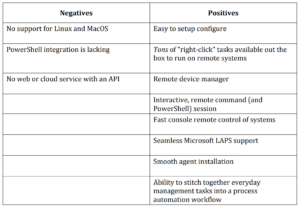 Want to check it out? For a free trial, head over to their site and see how it can help you!