Could you sit at home, log in to your work computer, and have all the same access as if you were in the office? Yes! With the Chrome Remote Desktop Access extension, connecting to your remote computer only takes a few clicks.
This tutorial will walk you through setting up your Chrome Remote Access Extension so that you never miss a beat while working outside your regular office space.
Ready? Read on to unlock the power of remote access!
Prerequisites
Before taking advantage of the Chrome Remote Access extension, ensure you have a few things ready to go, as below.
Two systems; a remote and local computer – This tutorial uses two Windows 10 systems for both computers. The steps are similar even if you are using different systems.
The latest version of Google Chrome installed on both systems.
A Google account signed in on both computers' Google Chrome browsers.
Downloading and Installing the Chrome Remote Access Extension
In the context of web browsers, an extension is a small software module that adds specific functionalities or features to the browser. The Chrome Remote Access extension is designed to facilitate remote access to your computer, which you need to install on your Google Chrome browser.
To download and install the Chrome Remote Access extension, follow these steps on both your remote and local computers:
1. Fire up Google Chrome on your local and remote systems, and navigate to the Google Web Store.
2. Next, search for chrome remote (left pane) and choose Chrome Remote Desktop from the search result list to access the extension's overview page.
3. On the overview page, click Add to Chrome to initiate the installation process.

4. Now, click Add extension to proceed with the installation. The extension will be directly downloaded and installed in your Chrome browser.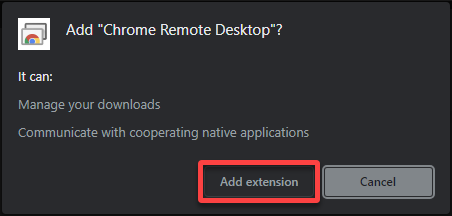 5. Once installed, navigate to chrome://extensions to visit your Chrome Extensions page and verify the Chrome Remote Access extension is present and enabled, as shown below.

💡 If you encounter any issues during the installation process or after adding the extension, try restarting your Chrome browser. This step helps resolve minor glitches and ensure the extension functions smoothly. Try clearing your browser cache and restarting Chrome before attempting the installation again.
6. Finally, pin the extension to your Chrome browser for quick and convenient access to the extension's features.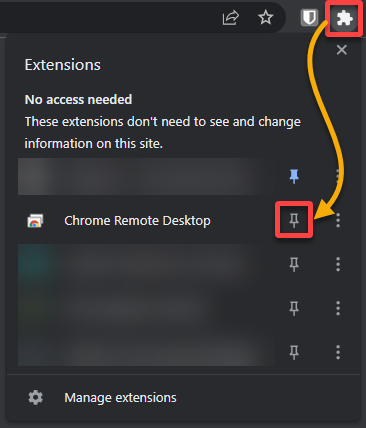 Once pinned, the extension's icon appears in the toolbar for easy access.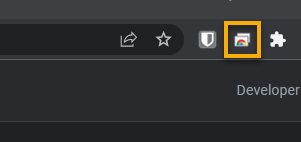 💡 If multiple extensions are pinned to your toolbar, you can rearrange their order by clicking and dragging them. Doing so lets you prioritize the most frequently used extensions and keep your toolbar neat and organized.
Accessing Remote Desktops via the Google Chrome Browser
You have the Chrome Remote Access extension all setup, but how do you use it? You must first set up remote access on your remote computer to allow connections between your local and remote computers.
1. On your remote computer, navigate to https://remotedesktop.google.com, or click the Chrome Remote Desktop extension's icon (top-right) and choose Access my computer.
Your browser redirects to the official website for the Chrome Remote Desktop service. This service lets you securely control your remote computer from another device, such as a laptop, smartphone, or tablet.
💡 Note that the page below only shows up the first time you access the Chrome Remote Desktop service.
2. Next, under Remote Access, click the download icon (bottom-right) to download the required software called chromeremotedesktophost.msi.
This software enables remote access capabilities and allows you to control your remote computer from another device via the Chrome Remote Desktop extension.
💡 Tip: If you do not see the download icon, ensure you have disabled ad-blockers or extensions that might interfere with the display of the page.
3. Once downloaded, click Accept & Install and follow the on-screen prompts to install the software.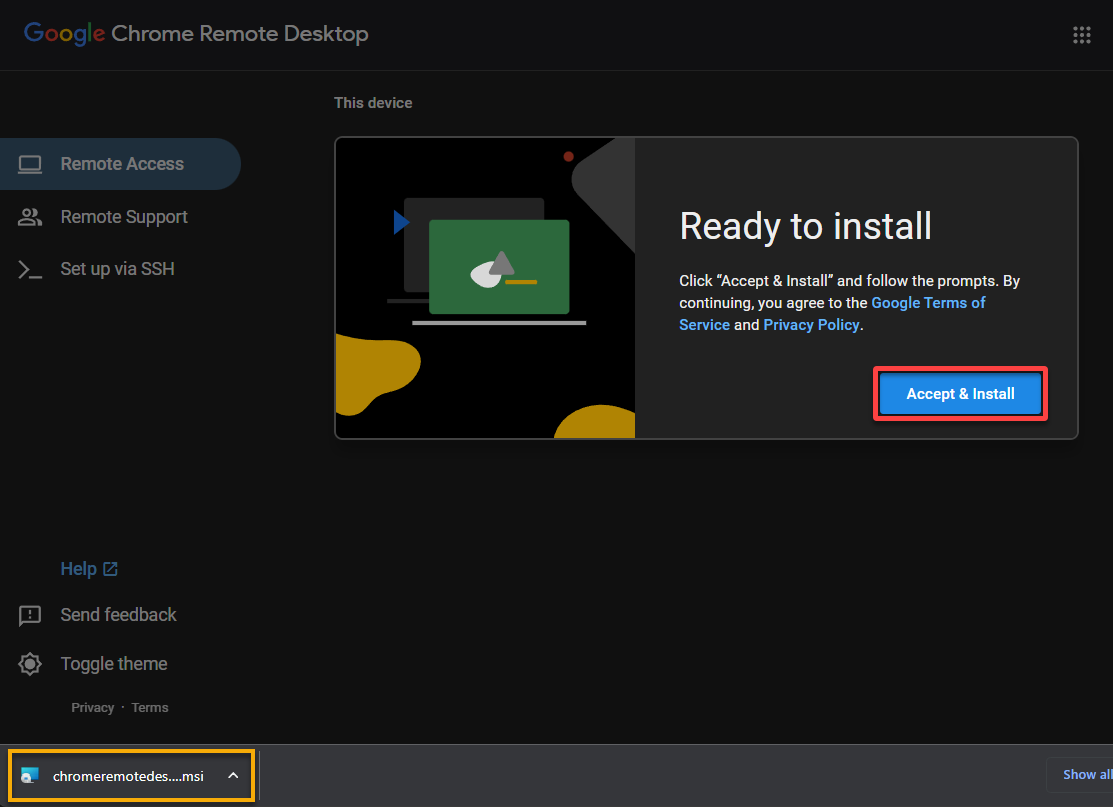 4. Next, provide a descriptive name for the remote access (i.e., my-home-office), and click Next.
5. Set a strong PIN for authentication, and click Start to complete the setup.
Your PIN should contain at least six numeric characters (0-9).
If the setup is successful, your remote machine will be listed as online, as shown below, indicating it is ready for remote connection.
6. Navigate to Remote Support, and click Generate Code in the Share this screen section to generate a unique access code. This access code consists of a series of random numeric characters, which is temporary and specific to the current session.
You can share this code with the person you want to grant access to. The access code is a security measure, ensuring only authorized individuals can access the remote user's computer.
7. Copy the access code to your clipboard, as you will need it to initiate the remote connection in the following step.
8. Switch to your local computer and connect to your remote computer as follows:
Click the extension's icon (top-right) in your browser toolbar to open the Chrome Remote Desktop service page.
Navigate to Remote Support (left pane) to view the page of remote options.
Scroll to the Connect to another computer section, input the code you copied in step seven, and click Connect to send a connection request to your remote computer.
9. On the remote machine, click Share on the pop-up window to allow the remote connection.
Once the connection establishes, you can view and control your remote computer from your local computer.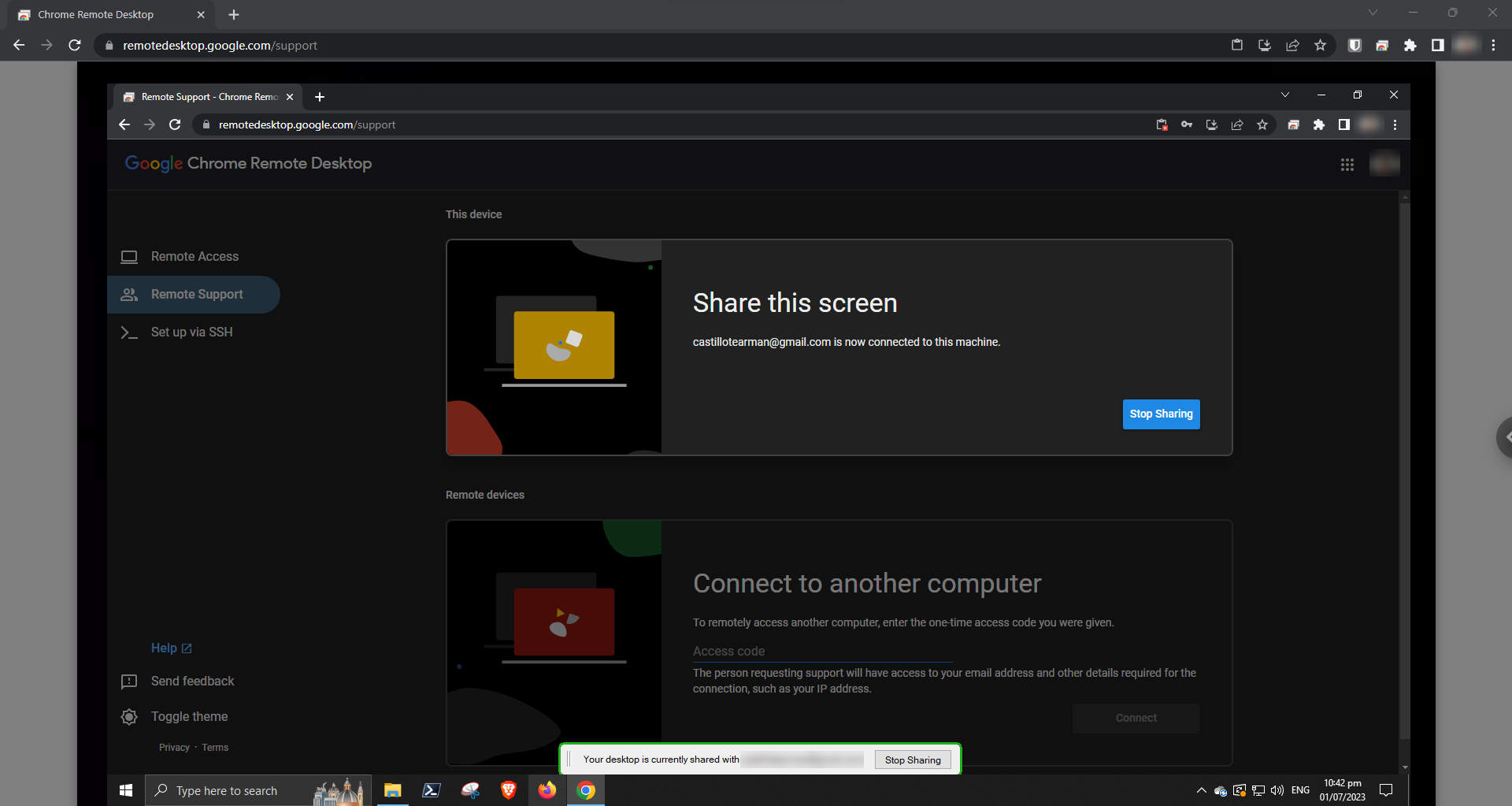 10. Interact with the remote computer with your mouse and keyboard on your local machine.
Perform tasks, open applications, and access files on the remote computer as if you were physically present.
11. Finally, on your remote machine, click Allow when prompted to grant access to the request. Once granted, you can copy text and images from the remote computer to your local computer and vice versa.
Conclusion
Setting up the Chrome Remote Access extension offers convenient access to your remote computers. And this tutorial provided you with step-by-step instructions to install and configure the Chrome Remote Desktop.
You can now quickly connect to remote machines and take full advantage of the inherent benefits the Chrome Remote Desktop offers. The extension's ability to facilitate seamless copying and pasting of text between devices further enhances productivity.
Next up? Why not explore Chrome Remote Desktop enables SSH (headless) access to remote computers? Expand the range of possibilities for managing and controlling machines today!