If you are looking for a single platform for all your business communication needs, take a look at 3CX.
3CX is a platform that combines video/audio conferencing, chat, and voice communication to bring all of your business communication needs under one integrated solution.
This article will cover how 3CX can benefit your organization and show you some handy features in their latest iteration, v18!
By the end of the post, I'll give you my final word and what I think of this product.
This post has been sponsored by 3CX. If you'd like to learn more about 3CX, check out their website.
The Problem 3CX Solves
In today's workforce, employees are spread out everywhere. You may have someone in HR in their home office using a personal device, someone in Accounting sitting in their cubicle on their work phone, and someone else on a company VPN connected over a softphone.
These days communication doesn't just happen in the confines of an office, and technology must adapt to that. Keeping a distributed workforce in sync, whether with text messaging, audio, or video calls, is where it seems 3CX is targeting.
Introducing 3CX
3CX is an all-in-one communications platform that brings together voice, video, and chat. It does this through various clients such as 3CX's Web Client, desktop and mobile apps, and desktop phones.
3CX also provides the flexibility to be hosted wherever you prefer; on-prem or the cloud. If you'd like not to manage your own infrastructure, you can host 3CX Communications with 3CX or self-host on Google Cloud, Azure, AWS, or Digital Ocean.
If you'd prefer to maintain complete control over 3CX and choose to host 3CX on-prem, you can also do that too by installing the software on Linux, Windows, or Raspberry Pi.
3CX does indeed provide many deployment options, and it seems that they're willing to go wherever employees are rather than forcing them into a particular solution.
I gave 3CX a spin after setting it up via their 3CX-hosted deployment option (the easy route) and set out to discover what this product was all about.
Unified Communications on Mobile
3CX provides many different ways to interact with the service. Let's first cover the mobile experience. Through their iOS or Android apps, users can communicate via text messaging, voice communication, and MMS.
Mobile voice communication is done via an assigned phone number different from the user's mobile number. Users can make and receive calls via the 3CX mobile app via a separate phone number.
When you launch the 3CX mobile app, you'll see a screen below with many of the common elements you might expect, like Contacts and Voicemail. But, since the 3CX mobile app supports text messaging also, you'll also see a Chat screen and a presence indicator via your Status.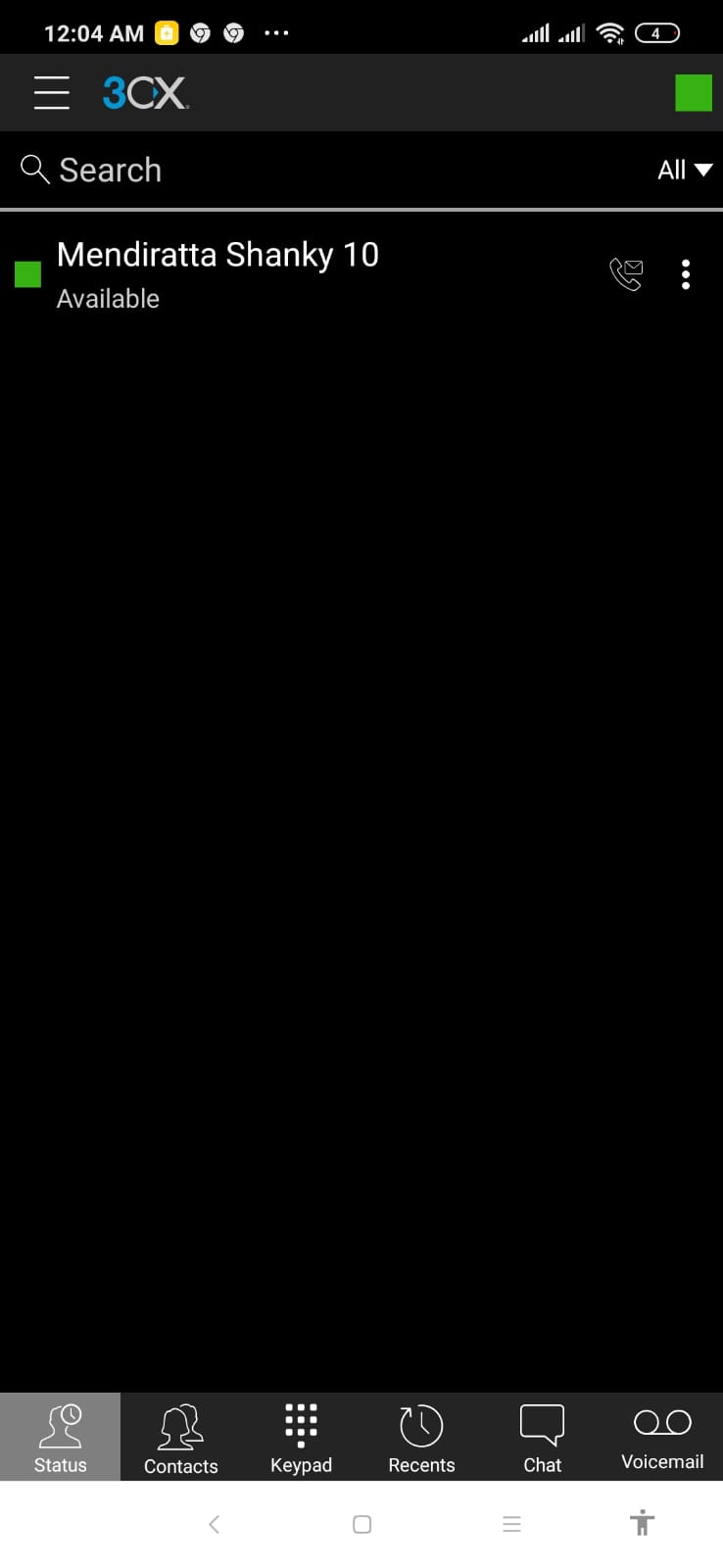 Tapping on the hamburger menu in the top left corner displays many different features.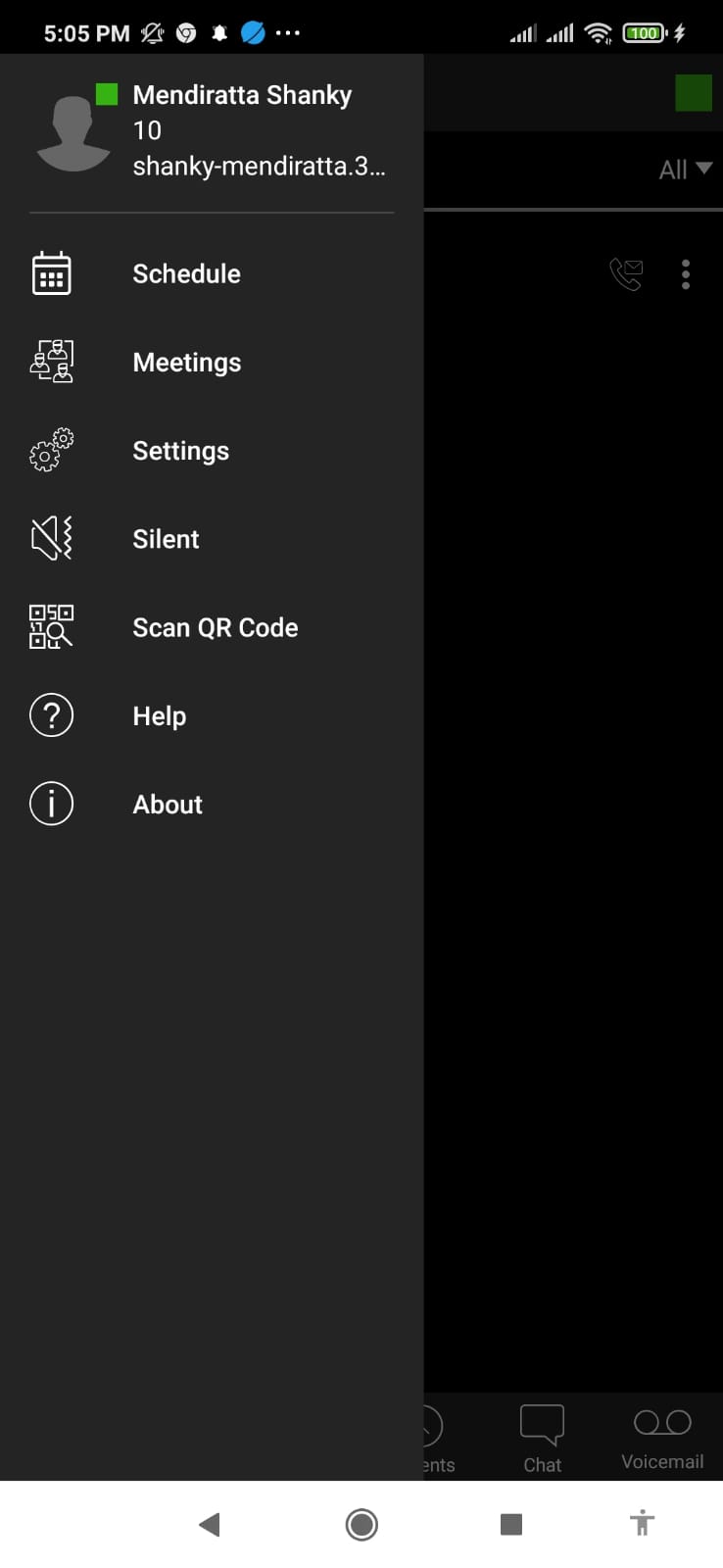 Schedule – To schedule meetings and calls.
Meetings – Schedule meetings and enable video-based calling, if necessary.
Settings – Here, you can configure the mobile application by enabling Bluetooth support, tweaking the call quality, and more.
With the release of v18, you can now compress images, play recorded calls, change your status during a call, and with improved push notifications.
Unified Communications on Windows
Are you not out and about on mobile but sitting at your desk in the office? You can communicate with colleagues and customers the same way; via the Windows desktop app.
The 3CX Windows desktop app provides various features such as:
Communicate and share files through chat.
Start or schedule video conferences from the app.
Set default status information such as Lunch, Business Trip, or define your own messages.
Make audio and video calls. One feature I liked was the ability to set a timeout for unanswered calls to forward to voicemail.
Receive notifications for missed calls. Keep track and manage your voicemail.
Set custom voicemail greetings based on your current status.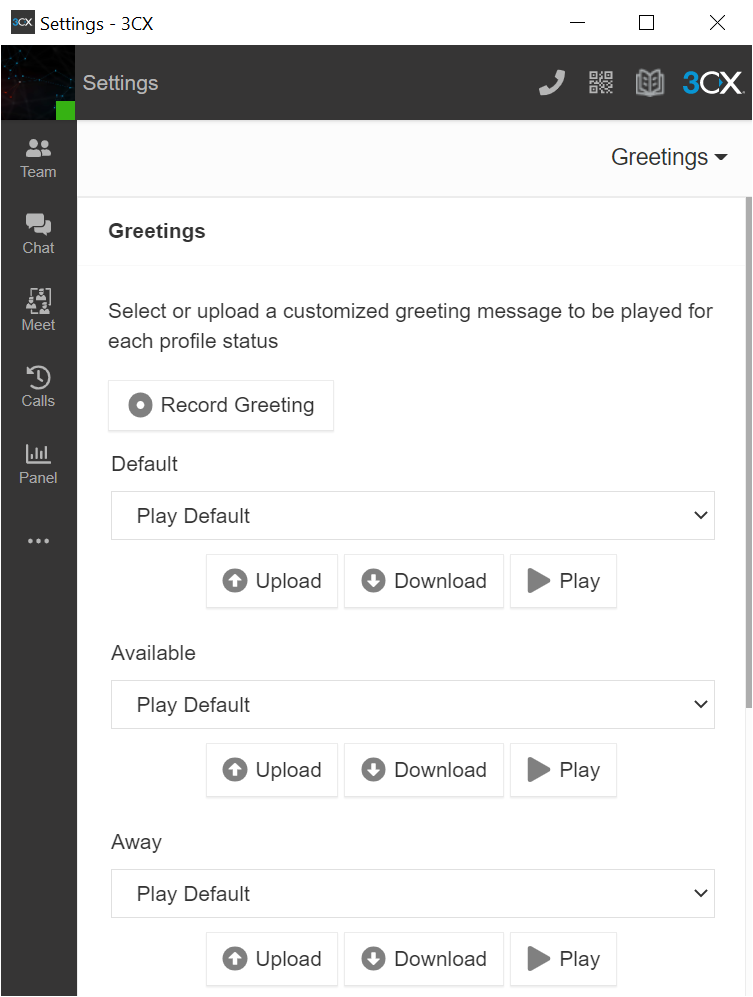 The 3CX Wallboard – The wallboard feature was my favorite. The wallboard provides you real-time metrics such as waiting time, average talk time, answered calls, abandoned calls, number of agents busy, callbacks, etc. These metrics would be great for customer service managers, for example.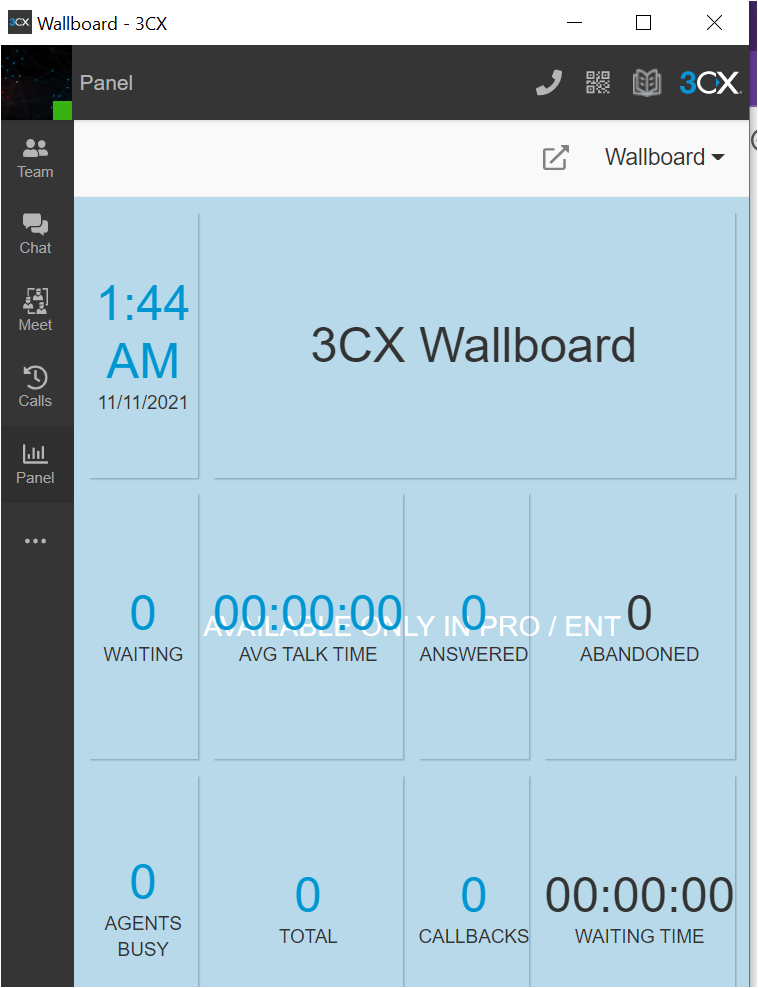 Unified Communication on the Web
Are you not keen on installing software? Not a problem. Fire up your web browser of choice to get the same experience you do via the Windows and mobile apps with the 3CX Web Client.
The 3CX Web Client provides all of the great features via mobile and Windows just from the web. Using the Web Client, you can:
Make and receive calls with the option to record calls.
View the status of colleagues
Conduct a video conference
Chat live with colleagues and customers
Text via SMS and MMS.
Even chat on Facebook via Facebook Messenger.
Video Conferencing via the 3CX Web Client
One notable feature I'd like to point out is video conferencing via the web with 3CX. With 3CX, calls can quickly turn into video conferencing. You'll see that during a call, you can easily convert that voice call to a video conference and allow others to join from other clients.
Some other notable features while in a conference include:
Switching to a new call.
Transferring a call.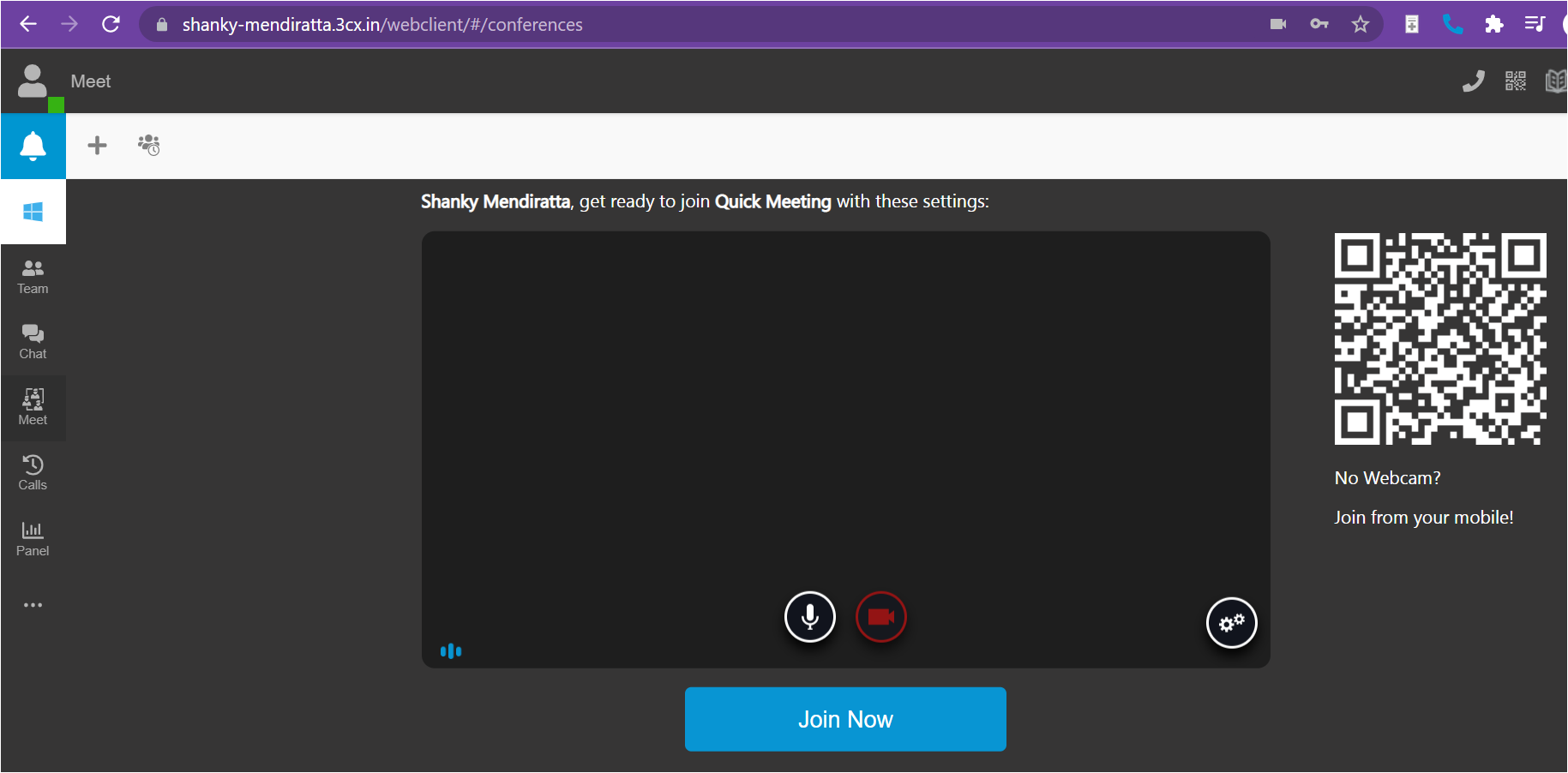 Seamless Communication Regardless of Client
3CX really embraces the whole "unified" theme. I discovered that regardless of the client you're using, the experience was near identical. For example, you'll see below that in the Web Client; you have the option to make calls directly from the browser, via the Windows app (if installed), or via your phone.
They seem to have integrated all of the features of 3CX into each client, allowing users to have the same experience regardless of where they are.

3CX Live Chat for Your Customers
3CX provides a valuable feature called Live Chat. This feature allows customers to chat with support agents easily. Live Chat supports features such as one-way agent-to-customer image-sharing and Google Analytics integration, among others.
As you can see below, the 3CX Live chat takes no less than a minute to connect with the support agents.
Notable Features
There are dozens of features of 3CX, but a couple of the more notable ones I saw were their browser extension and Facebook integration.
Calling Directly from Google Chrome
We all run into phone numbers all the time on the web. Rather than copy/pasting all of these phone numbers on a dialer, 3CX can connect calls with a hyperlink. Phone numbers are now hyper-linked by using a Google Chrome extension, automatically connecting them from any website.
Managing Facebook Messages
With 3CX Facebook integration, you can save time by connecting with customers and delivering messages on the spot from a single interface. Also, you don't need to provide your Facebook page details and permissions to the customers.
Once Facebook messenger is successfully integrated with 3CX, whenever you message your customers, it takes no time to reach them with the 3CX platform without logging into Facebook.
Managing 3CX
With all of the features that 3CX provides, there must be a way to control all of this functionality. 3CX delivers with its Management Console. The Management Console allows admins to manage and monitor 3CX at all times.
Some highlights of the Management Console include:
The dashboard – The dashboard provides you with all the details of your devices, such as CPU, memory consumption, call logs, restricted IPs, recordings, and disk utilization where the 3CX client is installed.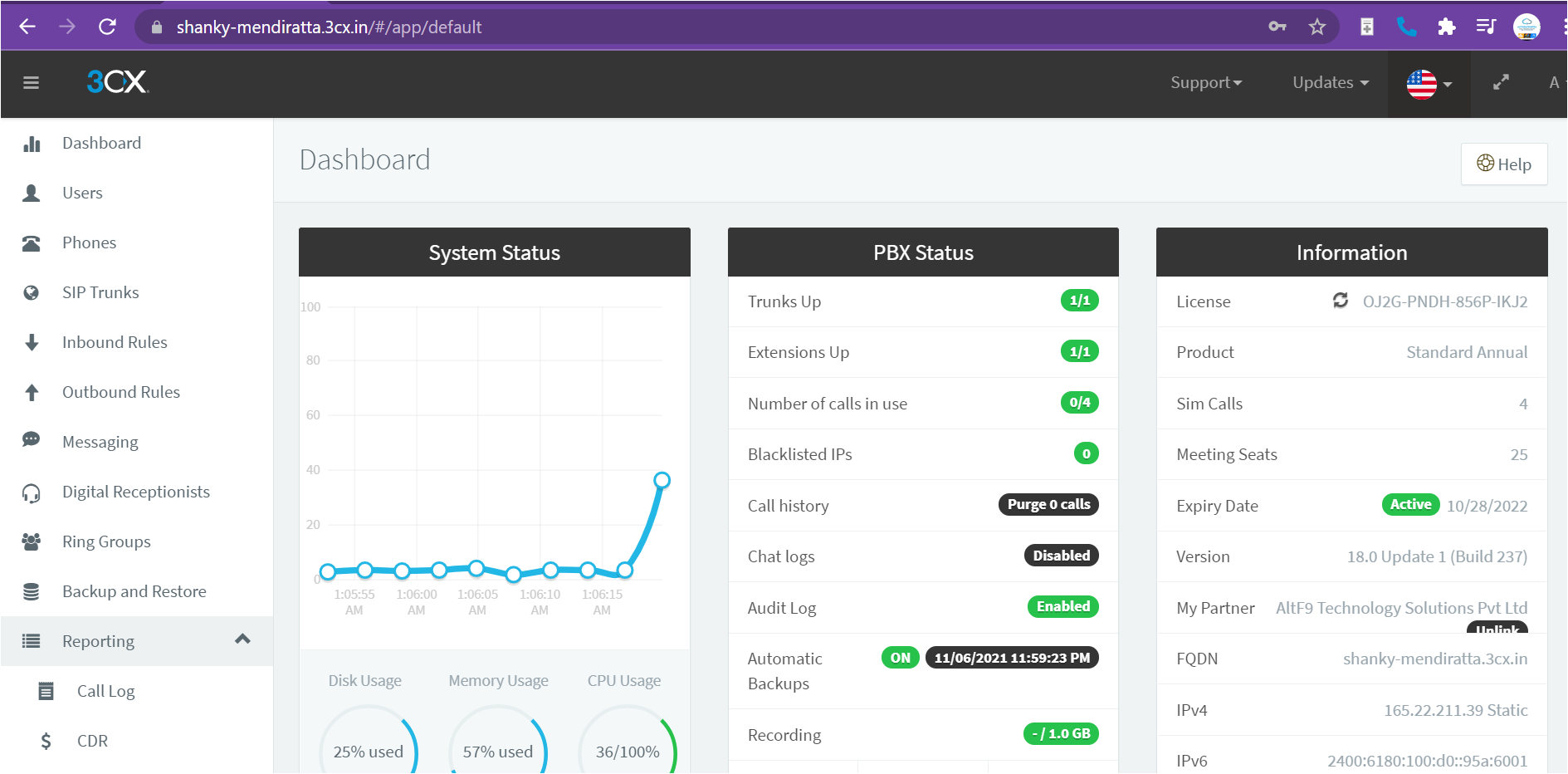 Inbound/Outbound Rules – This area allows admins to apply rules such as restricting calls from prefix ABC, extensions, etc.
Messaging – Here is where you will integrate 3CX clients with Facebook, Live Chat, or an SMS provider such as Flowroute.
Security features – Automatic Global 3CX IP Blacklist, controlling failed authentication attempts, blocked phones numbers, etc.
PMS integration – Reports call costs and perform check-in/check-out functionality.
Call parking – Place a call on hold. If you forget to unpark the call, you can set a timeout to dictate what happens to parked calls.
How much does 3CX cost?
With all of these features, you're probably wondering how much this all costs by now. I got you.
3CX offers three different plans based on the number of concurrent calls starting at four simultaneous calls. All plans are free for up to four concurrent calls for the first year, with a starting cost of only $145/year.
You can get a bulk renewal discount of 5% off if you sign up for three years and 10% off for five years.
You can choose to have 3CX host it for you and you will also receive one year of free hosting.
You can find more detailed pricing information on their pricing page.
3CX: Easy Communication Platform or Waste of Money?
If you're a small business looking for an affordable unified communication solution that allows your employees to communicate with themselves and with customers, 3CX is a product to look at it.
I found 3CX easy to install and manage and seemed to work well across each platform I tried it on.
From a management perspective, the Management Console is impressive to look at as it provides you a detailed view of your systems where 3CX is running and provides some great security features.
Conclusion
If you're in the market for a better communications platform for your business, look at 3CX. This platform covers just about every communications channel available on all platforms from desktop, mobile, and the web.
If you'd like to protect and securely connect with the world on a single platform, give 3CX v18 a try today!