Microsoft Azure is a robust platform that enables a developer to take advantage of many cloud services and capabilities. As with any service, and especially cloud services, costs can quickly add up depending on one's needs.
What are the free options out there, and how can you best take advantage of them to learn and use all Azure's capabilities?
There are three ways that Microsoft Azure offers free services for account holders.
Except for always free services, both limited time Azure Free Accounts, and Azure Dev/Test Pricing do have caveats but offer free benefits if you meet the criteria.
Limited Time Free Azure Account
Like many cloud services, Azure offers a free trial to entice potential customers into using the Azure cloud. Azure provides a generous free tier of $200 in Azure Credits for the first 30 days and a limited quantity of additional free services for 12 months.
An Azure Free Account is only available to Azure's new customers, those who have not paid for or used Azure before.
Services can be created in any region that supports the service. Additionally, multiple instances are allowed to be established as long as the total is within the permitted limits.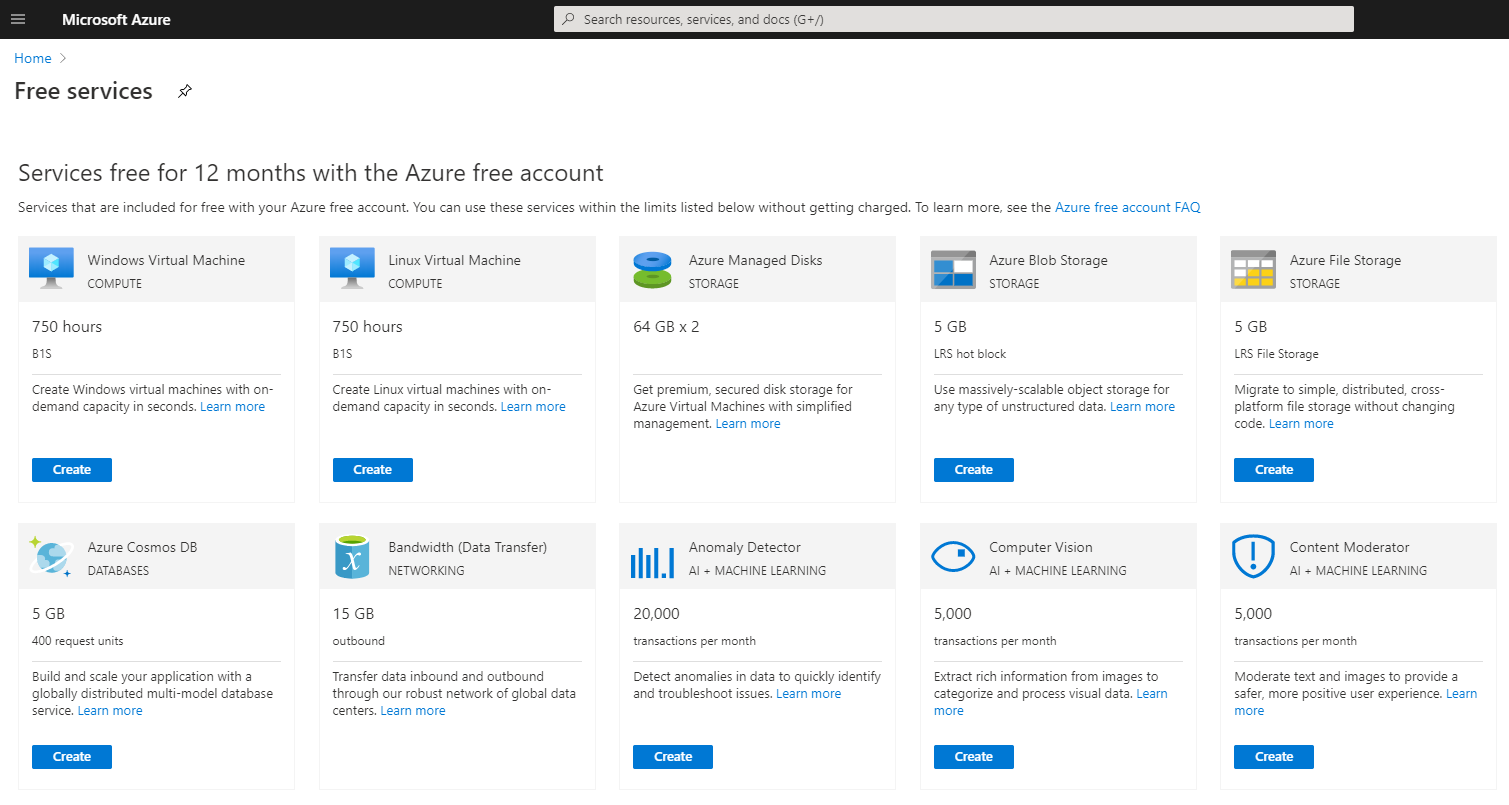 Microsoft Azure Portal showing the Free Services Available
What is Free for 12 Months
What Happens When an Account Goes Over the Limits
Within the first 30 days, you have $200 to either additional purchase services or apply to an overage you incur when using products. For example, saw you use more than 750 hours of Linux VM's, you can use the $200 to apply for any overages, as long as that overage is incurred within the first 30 days. After 30 days, the account will need to be switched to a pay-as-you-go account.
Unused credits cannot be rolled over at the end of the 30 days or transferred to another subscription
Within 30 days of sign-up or upon exhaustion of the credits, an account must be upgraded to a Pay-As-You-Go subscription.
It's important to note that inactive accounts for greater than 90 days may have resources removed.
Of course, the $200 in Azure credits may not be used to purchase every product. Several different products are not allowed to have the credits applied and are listed below.
Azure support plans
Azure DevOps
Visual Studio subscriptions
Visual Studio App Center services
Express Route
Third-party branded products
Azure Marketplace Products
Separately licensed products from Azure such as Microsoft Azure Active Directory Premium
Always Free Services
Outside of an Azure Free Account, there are always free services that Azure offers to any Azure account holder. If you need additional services or usage exceeds the free limits, then with a pay-as-you-go account, the overages will be billed to that subscription.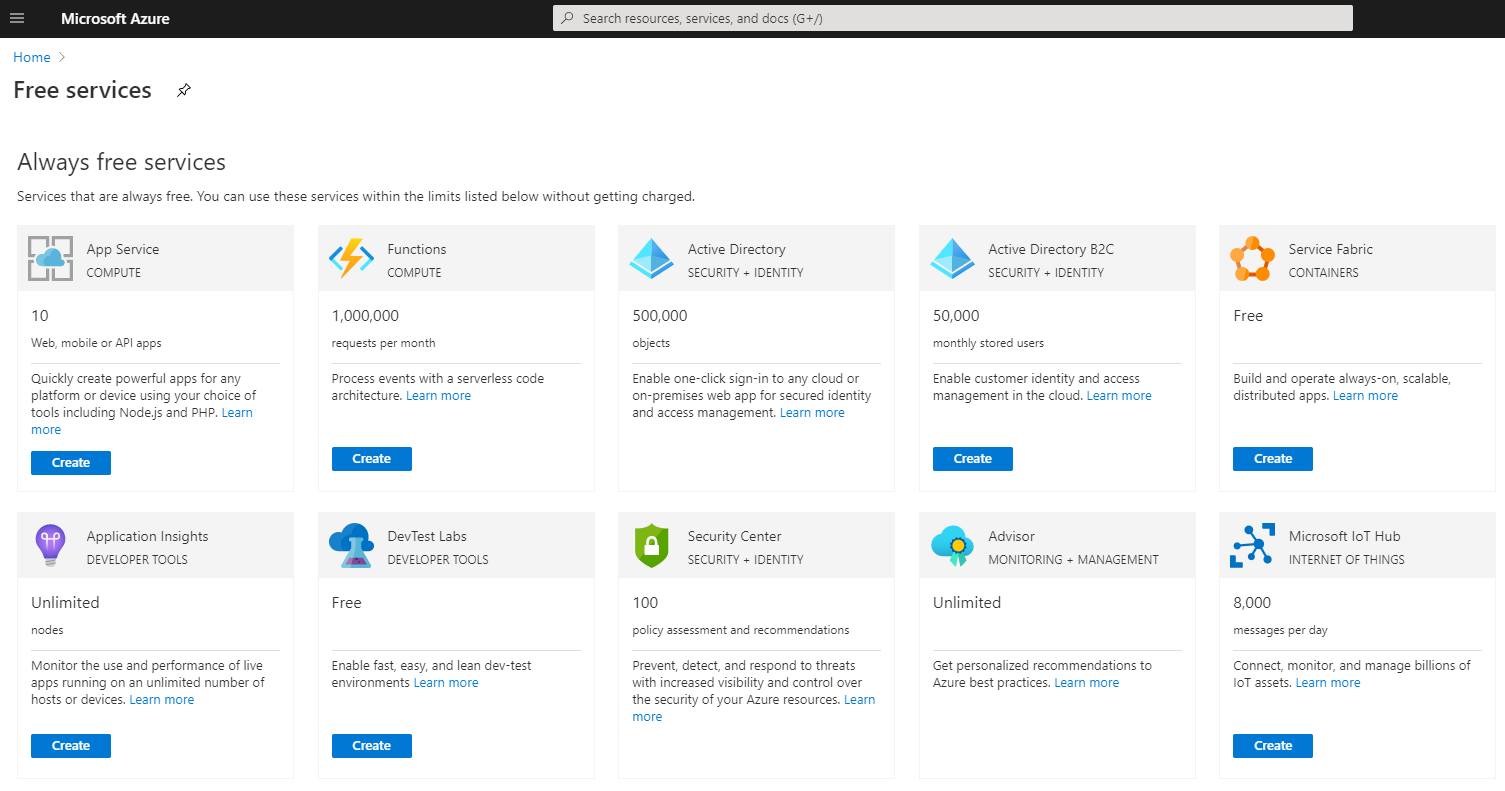 Microsoft Azure Portal showing the Always Free Services Available
400 provisioned throughput RU/s and 5 GB of storage for Azure Cosmos DB
Azure IoT Central includes a 7-day free trial for first-time subscribers and 2 free monthly connected devices
Azure Maps S0 account tiers offer 250,000 monthly map tile loads and 25,000 monthly service calls
5 GB of bandwidth for outbound data transfer with free unlimited inbound transfer
10 web, mobile, or API apps with Azure App Service with 1 GB storage
1 million requests and 400,000 GBs of resource consumption with Azure Functions
100,000 operations for event publishing and delivery with Event Grid
50,000 stored objects with Azure Active Directory with single sign-on (SSO) to all cloud apps and MFA
50,000 active users per month (MAU) with Azure Active Directory B2C
Free Azure Service Fabric to build microservice apps
First 5 users free with Azure DevOps
Unlimited nodes (server or platform-as-a-service instance) with Application Insights and 1 GB of telemetry data included per month
Unlimited use of Azure DevTest Labs
Machine Learning with 100 modules and 1 hour per experiment with 10 GB included storage
Free policy assessment and recommendations with Azure Security Center
Unlimited recommendations and best practices with Azure Advisor
Free Azure IoT Hub edition includes 8,000 messages per day with 0.5 KB message meter size
Free public load-balanced IP with Azure Load Balancer
5 free low-frequency activities with Azure Data Factory
50 MB storage for 10,000 hosted documents with Azure Cognitive Search including 3 indexes per service
Free namespace and 1 million push notifications with Azure Notification Hubs
Unlimited Azure Batch usage for job scheduling and cluster management
Free 500 minutes of job run time with Azure Automation
Unlimited users and 5,000 catalog objects with Azure Data Catalog
30,000 transactions per month processing at 20 transactions per minute with Face API
Free 2 million characters included for Translator
Free 5 GB per month analysis plus 31-day retention period with Log Analytics
50 virtual networks free with Azure Virtual Network
Unlimited inbound Inter-VNet data transfer
Free Azure Container service to cluster virtual machines
Azure Dev/Test Pricing
Azure offers discounted rates on Dev/Test pricing and monthly Azure credits to Visual Studio subscriptions. There are a couple of benefits to the Azure Dev/Test options
No Microsoft Software Charges on VM's
Dev/Test Pricing Discounts
Windows 10 Virtual Machines & Windows Virtual Desktop service
Companies often offer visual Studio subscriptions to employees who need it, but if a subscription is required, the pricing starts at $1,199 and goes up.
If you are a Visual Studio subscriber, you have a few options available to you, depending on whether you are an individual versus a team. But if you are an individual, you get access to the following.
Monthly Azure Credits

$50 – Visual Studio (Test) Professional (Standard)
$100 – MSDN Platforms
$150 – Visual Studio Enterprise (Standard)

Discounts
Keep in mind that the licensing terms for this are restricted for dev/test use only, and production instances are not allowed.
Managing Cost
Of course, you need to manage your cost-effectively and make sure that you aren't going over this. Thankfully, you can quickly see how your costs are stacking up using the Azure Portal to check the Free Services section and see what is offered and how your usage is.
Navigate to Subscriptions
Select the subscription associated with the Azure Free Account
Scroll the page to find the table showing the free service usage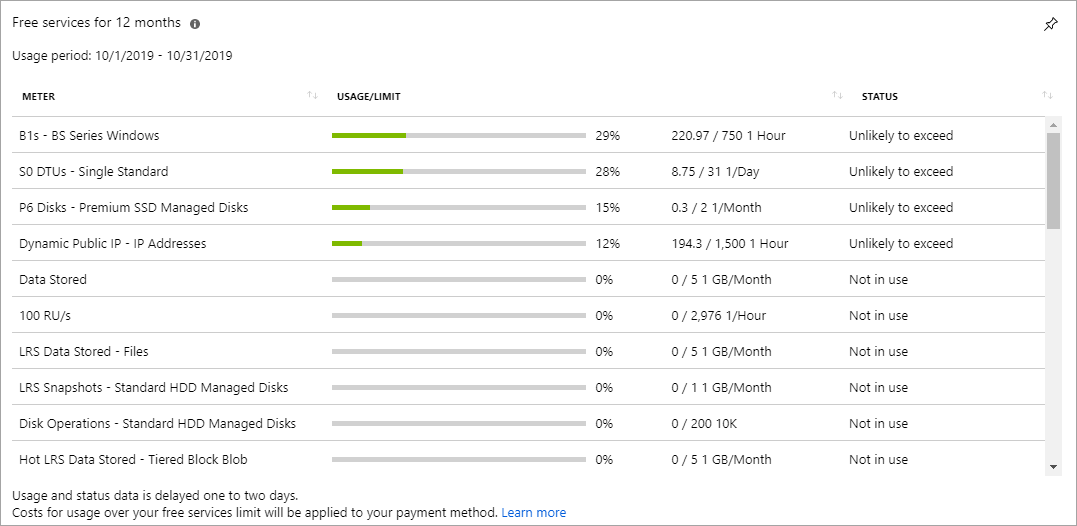 It's also possible to create a usage report using PowerShell, which could help you automate your Azure account usage tracking.
It's important to note that if you don't see this table, then your viewing subscription does not have access to the 12 months of free services.
Conclusion
Azure offers many different free services for the first 12 months and in an always free state. With this freedom, it's easy for new and existing developers to get started using Azure and test out or use Azure for smaller projects. Check out Azure today to see how you can take advantage of the many free and useful services available!