If you love using Yahoo! Mail and don't want to change your email provider anytime soon, that's totally fine. But knowing that Yahoo! Mail doesn't support email encryption to secure your email, would you choose personal preference over security? Well, hold your horses because Mailvelope will let you keep both.
Mailvelope is a web browser extension that supports end-to-end encryption to secure your emails without changing your preferred email provider. In this tutorial, Mailvelope was used to demonstrate encrypting emails on Yahoo! Mail, but the steps are almost identical if you're using other email providers like Gmail and Outlook. So let's get started!
Prerequisites
Ensure that you have the requirements below and follow this step-by-step tutorial encrypting your emails with Mailvelope.
Mailvelope is a browser extension, and it works perfectly with Google Chrome, Mozilla Firefox, and Microsoft Edge. So long as you have an updated web browser, all should work smoothly.
Launch your web browser from your Desktop or Start menu then install Mailvelope extension.
What's Great About Mailvelope?
Started by Thomas Oberndörfer in early 2012, Mailvelope has been a free and open-source project hosted in Github—meaning experts from around the globe can contribute to its development. Mailvelope makes it effortless to send and receive encrypted emails so long as you have the extension installed in your web browser.
Another reason why Mailvelope stands out is that it's compatible with tons of email providers. And lastly, as previously mentioned, Mailvelope supports end-to-end encryption. Whether you're sending sensitive personal information or confidential company data, all are kept secure as private in the true sense between the sender and recipient.
Encrypting Email with Yahoo! Mail using Mailvelope Browser Extension
End-to-end encryption is not a feature included in Yahoo! Mail, and that's where Mailvelope will come in handy. Mailvelope is all you need if you'd like to keep it light with encrypting emails as you only need to make a few clicks—after installing Mailvelope, that is.
Note that end-to-end encryption only works if both the sender and recipient have Mailvelope installed in their web browsers and have generated their Keys.
Once you have Mailvelope installed on your web browser, follow the steps below.
1. Login to your Yahoo! Mail and click Compose at the top-left corner of the page, as shown below.
2. Click on Mailvelope's icon at the top-right corner of your message editor. Doing this will open a separate Mailvelope email editor window which you'll see on the next step.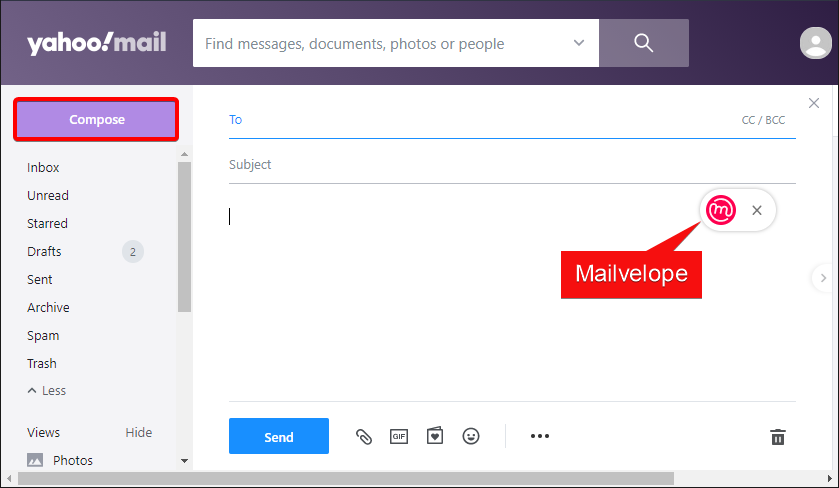 3. As shown below, enter the recipient's email address. The email address turns green when the recipient has an active Key in the Mailvelope server. Now, you may continue with the encryption.
Upon generating a key after installing Mailvelope, you get to upload your public key to their server. So regardless of which device you're using, the recipient's public key is automatically recognized upon typing in the email address. In the form of digital code, the public key is used to encrypt emails.
If the recipient hasn't generated a Mailvelope Key yet, the recipient's email address turns red, and you'll see an error message, as shown below.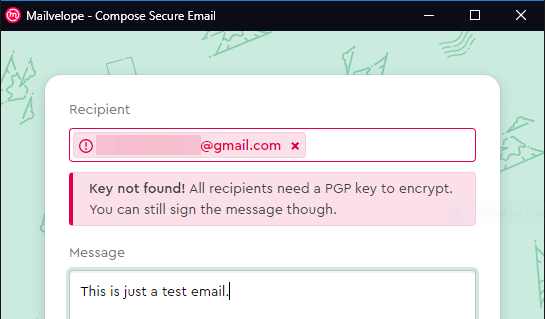 4. For added security, add a digital signature to your email. The digital signature acts as an authentication mechanism that lets you validate the integrity of an email.
To digitally sign your email, click on the Options button at the bottom-left corner of the window, and a drop-down box will pop up.
From the drop-down box under Send message label, choose which Key ID to sign your email with, then click Encrypt.
The Key ID is your digital signature. It is unique only for the email address you registered when you generated a key upon setting up the Mailvelope extension on your browser. If you registered multiple email addresses using the same browser, you'd see the Key IDs for each email address in the drop-down box.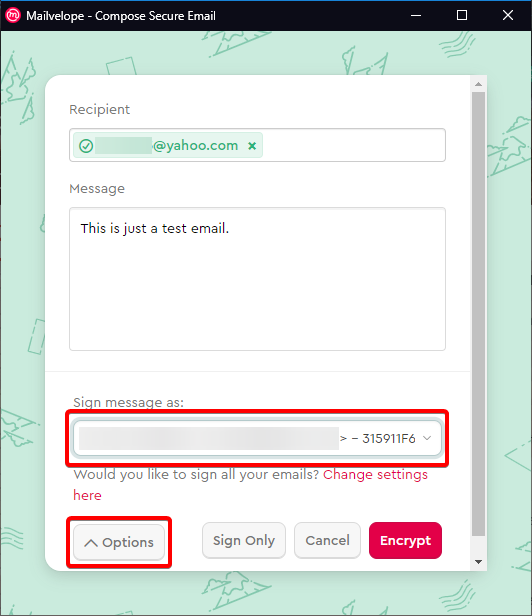 5. After you click on Encrypt, you'll get this pop-up window below. Enter the password you've created for the account's Key ID that you previously selected, then click OK.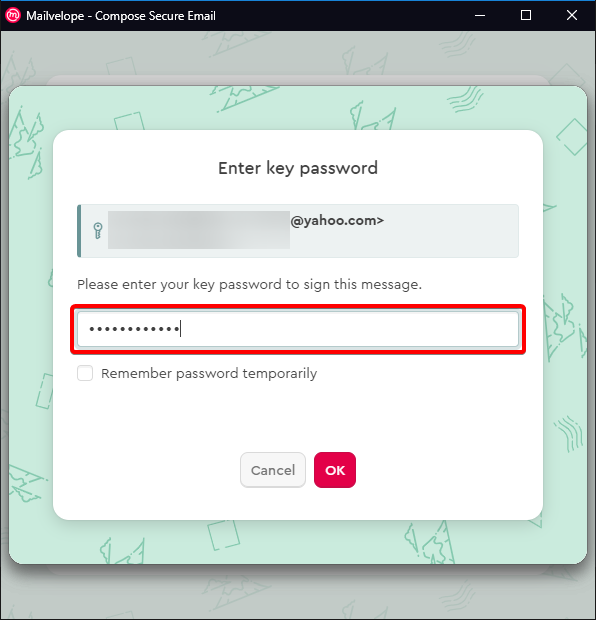 Reading Encrypted Yahoo! Mail Using Mailvelope
Having fun encrypting emails? Well, don't get carried away; you must also learn how to decrypt emails using Mailvelope. So let's get started.
Reading encrypted emails with Mailvelope is fairly simple. With a few steps, you'd get to convert a ciphertext to a plain readable message.
1. Login to your Yahoo! Mail account.
2. Click on the encrypted email from your inbox.
As you see in the following screenshot, an encrypted message would look like much-written nonsense if you don't have Mailvelope installed.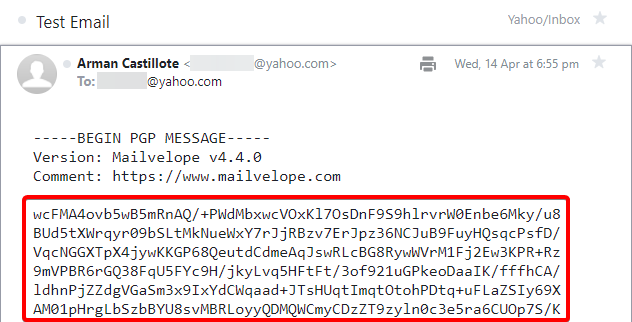 3. As demonstrated below, in the middle of the email message, click on Show message. Now, you'll be asked to put in your Key Password.
The Key Password is the one you made for your email address upon generating a key in Mailvelope. This process is for verifying that you have permission to decrypt messages.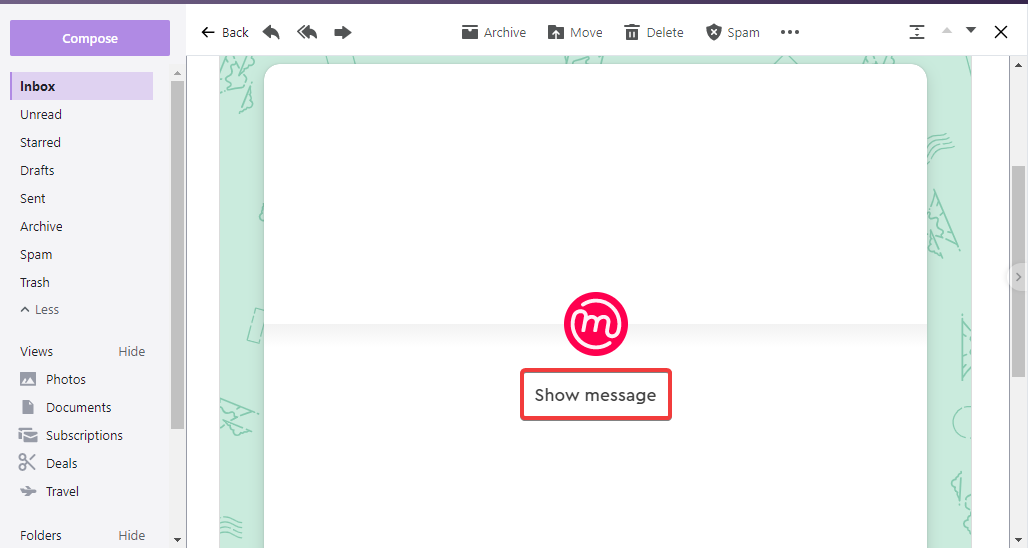 4. In the pop-up window below, type in your Key Password, then click OK. If successful, that encrypted PGP message you saw earlier will be decrypted to the actual email content
Conclusion
By now, you've already learned how effortless it is to secure your email using Mailvelope while keeping your preferred email provider. As long as you have Mailvelope installed in your browser before you send an email, then you're secure, so go nuts!