Welcome back to ATA's Learn with Me series on the 1E Tachyon Platform for Unified Experience Management! If you missed the previous posts, be sure to catch up here.
In this post on 1E's Tachyon, I'm going to cover their Tachyon Experience application. Dubbed as "digital experience management" in marketing-speak, the Experience application aims to measure typical endpoint performance and maintenance issues and the user's overall sentiment towards productivity.
You may be shaking your head right now at fluffy terms like "experience" and "sentiment." You might be wondering why I'm not talking about WMI, software installs, files, and the registry. I'm not getting geek on you because the Experience application doesn't directly focus on these terms. Instead, it attempts to use technical data to abstract away all of that and get to the true metric IT strives for; user productivity.
Measuring User Experience is Hard
Those of us in IT managing endpoints aren't typically the most liked individuals, to say the least. A lot of us aren't even thought of until something breaks. But, when a user's endpoint breaks, you bet we're on speed dial. IT pros are, unfortunately, underappreciated but isn't that lack of interaction with IT the whole point?
IT keeps the lights on. From an endpoint manager's perspective, the goal is to make users as productive as possible. Every time a user has to send an email, make a phone call, or heaven forbid, open a ticket, that's time wasted. Every minute a user interacts with IT is a minute they're not doing what they were paid to do. That's a problem.
Even if the helpdesk line is silent, that doesn't mean that "no news is good news." Like the tree in the forest, if you don't hear the helpdesk phone ring doesn't mean a user is happy. A user could still encounter some annoying problems like a periodic crashing application, slow response time, or that one workaround they learned years ago.
Each user has a unique experience with their endpoint, whether you know about it or not. Unfortunately, IT typically only addresses the squeaky wheels and is measured on closed tickets as a performance indicator on their job review.
We don't take that extra step and get measured on what we're all after, in the end; the user's experience. 1E's Tachyon Experience application aims to change that and is one feature of Tachyon I found fascinating as I began getting used to it.
How does it stack up? We'll see!
What is 1E's Tachyon Experience Application?
The Tachyon Experience application is about measuring user experience; that's it. Experience is all about measuring experience, breaking that term down into various categories.
Stability – Measures the frequency of operating system and software crashes, hangs, and service failures.
Responsiveness – Measures the speed of operating system tasks and software activities. This metric measures how long users are stuck waiting around.
Performance – Measures the load and throughput for endpoint hardware like processor, memory, and disk resources.
Sentiment – Measures users' overall feeling towards their endpoint experience. This metric is aggregated from the three other metrics, including direct user feedback based on user surveys.
Experience is all about discovery. Through the 1E agent, Tachyon constantly collects data from endpoints and sends this data back to the Tachyon database. Then, through, a collection of dashboards shown below, it allows you to slice and dice the data in any way you need.
Full disclosure: I will only be covering features of Experience I find noteworthy. I am not covering all dashboards Tachyon Experience provides.
The Experience Overview Page
Whenever you first navigate to the Experience page, you'll immediately see the Overview page. The Overview page is where all of the data 1E's agents collect is aggregated into a single Experience Score. This Experience Score is derived from a series of algorithms based on each of the four categories described in the previous section.
The account you access Tachyon with must be a member of the Experience Viewers group to access the Experience application.
You'll see below the dashboard is split into various sections with different ways to measure the intended user experience.
If you click on the Users page, you'll be able to drill down on individual users' experiences. Shown below, you can see that the 1etrn\user account has been using two computers. It appears that this user has had a better experience on 1ETRNW72.
Filtering Data
The Overview page is nice, but chances are that you will eventually want to drill down in some areas. Most of the Experience pages have a neat way to filter the data displayed. Instead of navigating back to some table of data, you can simply click on a specific element.
Applying filters is a great way to narrow down patterns. If, for example, you notice users on Windows 10 Enterprise Build 1709 machines are showing low experience scores, but people running previous builds continue to show high experience scores, you can begin investigating why.
In the GIF below, you can see that all other elements on the dashboard auto-populate based on the filtered data by clicking on individual elements.
As you click on each category in Experience, you'll also see that the filter you apply in one dashboard carries over to the other one. For example, if you filter on a certain model of computer on the Overview page and then navigate to the Responsiveness page, you will only see Responsiveness data for that model.
The Devices Page
If you notice an anomaly for a user's experience score, click on the Devices page. Here is where you can see all of the data grouped by device.
If you click on an individual device, you'll see each metric that goes into the overall Experience Score on a scale from 0 to 100 with some graphical progress bars.
Unlike other endpoint management products, this device screen not only gives you all of the common information like name, CPU, memory, storage, etc. It also provides real measurements on all of those resources.
Customizing Dashboards
For the majority of the dashboards in Experience, you can customize quite a bit. Some of the ways to customize the charts I found interesting were:
Adding and removing metrics – If you click on the button on the top right of most of the dashboards, you'll get to a Select Metrics screen where you can add/remove and reorder the columns in various tables.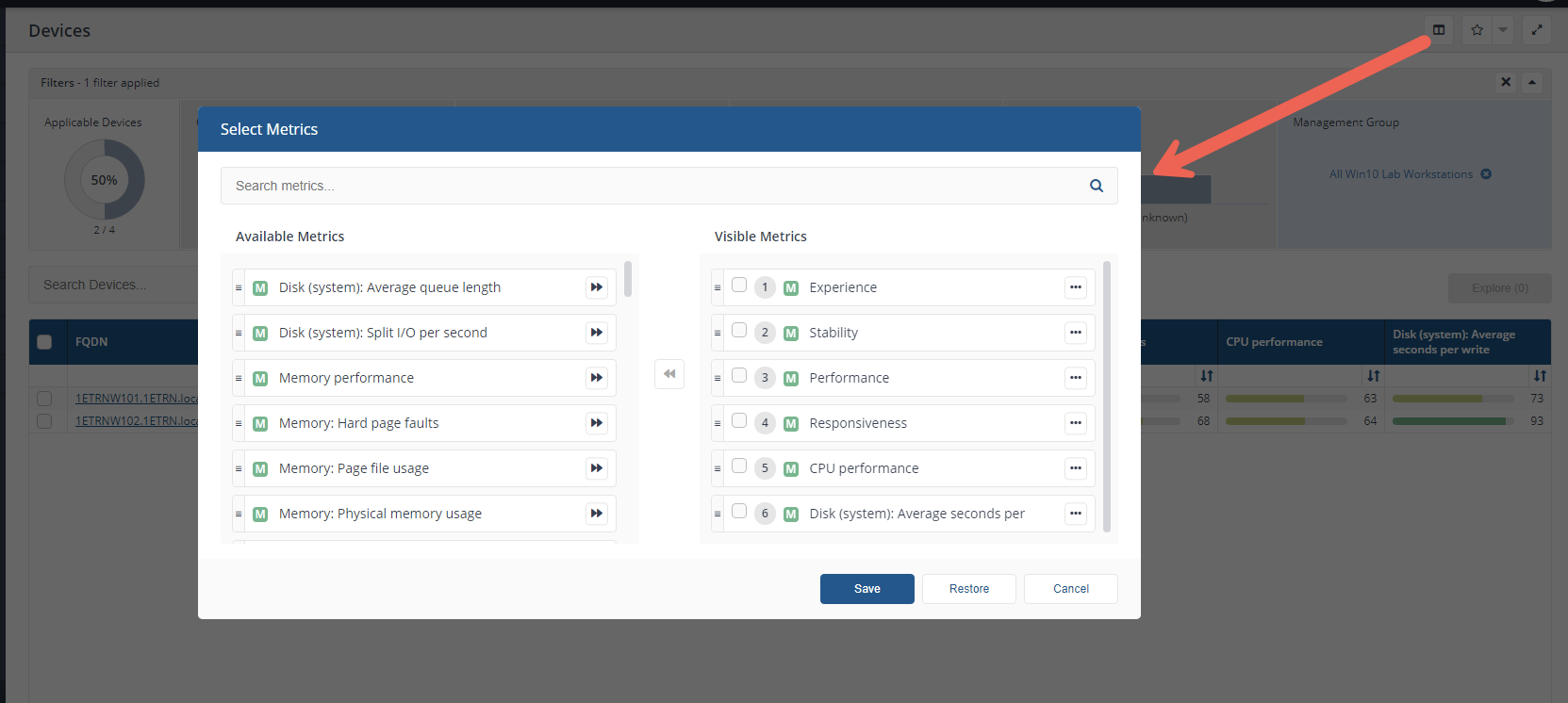 Customizing and saving screen layouts – If you'd like to add a particular chart element on a dashboard, click on the Edit Layout button and add/remove or even resize different elements. I liked this one just because of the number of layout changes you could make.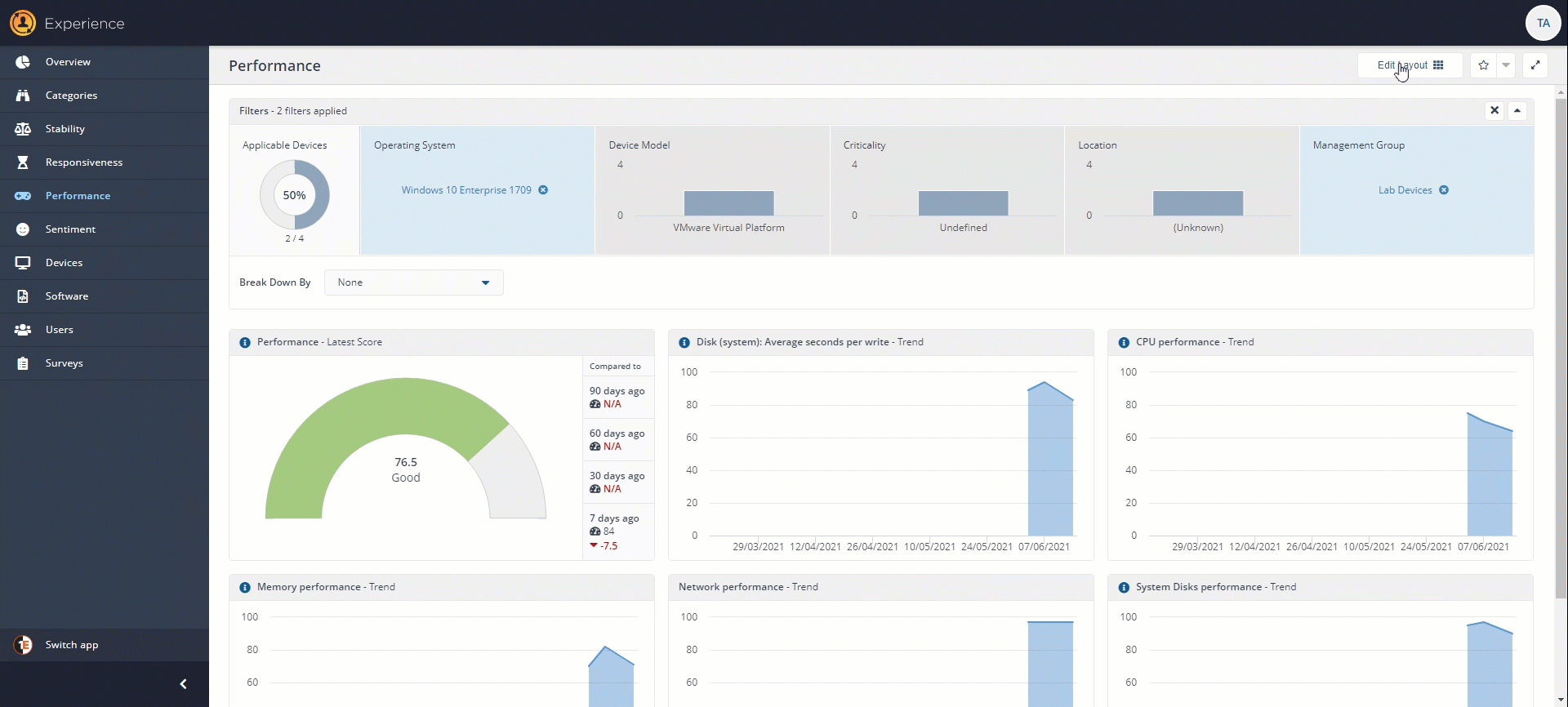 Changing the chart type on the fly – I think this one was probably my favorite. You can change a chart element's type on some screens by clicking on a title bar button. You can see below that the chart will automatically update. No page refresh is needed.
Adding presets – If you've created the perfect chart element, click on the Star icon on some dashboards to save presets you can then apply to other dashboards.
Surveys
Have you ever gotten those annoying emails asking for your feedback after some transaction? I'm sure we all have. When's the last time you ever actually took the time to provide that feedback? If you're like me, it's probably a rare occurrence. I get the same feeling with the Surveys feature.
In Tachyon's Experience application, you can create and send surveys to your users. With a name, description, the question to ask, and a way to provide feedback, you can create a survey that asks a user a question.
Tachyon then waits for an idle time on the computer and displays a notification in the system tray, as you can see below.
Taking this feature a step further, Tachyon can integrate the feedback it receives into the Sentiment Experience Score using a User Sentiment survey you can see below. This user feedback then gets rolled into their overall Experience Score.
While I commend 1E for the initiative and understand the premise behind this feature (measuring overall user experience), I'm not sure how useful this feature is going to be in the real-world.
Coming from 20+ years in IT with nearly all of those managing endpoints in some manner, I know that users ignore notifications the majority of the time. They don't care about providing feedback and just want to get on with their day.
I fear that if this feature were rolled out and an organization would start to rely on User Sentiment surveys, it could skew the user Experience Scores and direct IT resources in the wrong direction. Human emotions are messy and can't be accurately measured. I can think of countless scenarios where a user may provide inaccurate feedback on a survey.
You can see below the steps to create a survey. Fill out the details, provide the type of response you'd like the user to respond to, and push out the policy.
Potential Gotcha with Surveys
As I was testing out the Surveys feature, I would push the policy update out and wonder if the devices actually received and applied the instruction. You can see below the view of only the responses to the question.
Although it's possible to see when an agent received a policy via other means, it would have been nice to see that information right where I need it; in the Experience panel.
Use Case: Tracking Down Problematic Software
Let's wrap up this post with a typical use case of Tachyon's Experience application. Let's say you've been getting some reports of users complaining about a line of business application crashing. Currently, you've only heard from a small minority of users and are concerned there might be a bigger trend at play.
Pretend like you see problematic crashing in the screenshots. I could not reproduce this real-world yet hard-to-reproduce issue in my lab. Just go with me.
You open the Experience application and navigate to the Software page, as shown below. You see dozens of crashes for Google Update v1.3.34.7 but nothing for v1.3.35.441. Interesting.
Clicking on the row in the Software dashboard, you drill down to see the specific devices affected by these crashes. You then notice a high Processor Time % for every device.
You click on one of the devices to find out the queue length for the CPU seems to be pretty high recently.
Clicking on the Processor: Queue length metric brings you to that device's Trends tab, which you then see that the problem started occurring a short time ago.
You can see that using Tachyon Experience, you can drill down different levels to troubleshoot an issue. Knowing when this issue started allows you to investigate further and eventually find the cause.
Now, it's time to head over to the Tachyon Explorer application to start implementing a fix!
Conclusion
So far, the Experience application has been the one that I'm most excited about. The tech looks promising, but I'm hesitant to truly start gushing about it until I see it in use in a large organization.
I'm impressed with the dashboards and their flexibility with customizations, drilling down, and more. The user experience is well designed. Overall, I had a great experience with Experience (ba dum tiss).