If you're torrenting, secure yourself and your activity. A free VPN for torrenting can help you encrypt your traffic and remain secure from other parties. If you're in the market for a free VPN for torrenting, you have many options. But, which do you choose?
Read on to discover three free VPN choices when downloading torrents.
Important Features in Common
When shopping around for a VPN for torrenting, it's important you consider many different aspects of each service such as:
DNS masking
Download kill-switching
Faster connections and downloads
Location masking
Encryption
This isn't an exhaustive list, by any means. However, today's top torrenting VPNs normally include these features. We'll cover many of these features in-depth in this article.
This post contains affiliate links. If you clink on a link and decide to purchase one of these VPN options, ATA gets a cut and it's much appreciated!
Windscribe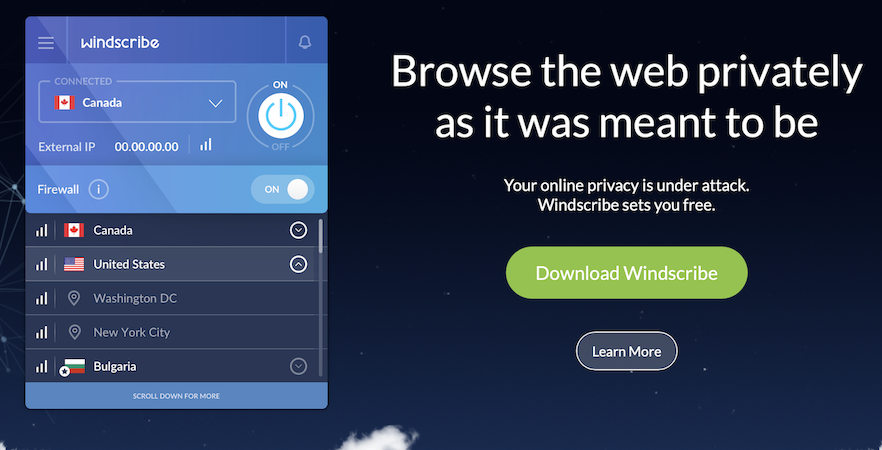 First on our list is Windscribe with its list of many features. Windscribe supports Windows, Mac, and Linux—even offering VPNs for Chrome and Firefox. Mobile users can also rejoice, as iOS and Android are supported. Need additional hardware coverage? Windscribe pairs well with FireTV and home routers.
Ease of Use
Windscribe's GUI is polished and modern—a visual step up from its competitors. The application features a prominent ON/OFF switch, server location drop-down menu, and a firewall activation toggle. Your user IP address is displayed beside a corresponding signal-strength meter. Available networks are listed underneath this top-level control panel—while settings, actions, and deeper options are stowed within a hamburger menu.
Thankfully, Windscribe's free version isn't neutered in terms of feature availability. Free users may even consume up to 10GB of monthly data. There is one caveat. You can access servers in only 10 countries. This isn't unheard of in a free VPN for torrenting.
Connectivity and Privacy
Windscribe excels at security. The VPN brings AES 256 encryption to the table, alongside both SHA512 auth and a 4096-bit RSA key. A strong firewall prevents external communications from permeating your network, thus preventing any data leaks to outside actors. No identifying logs are created during a browsing session—keeping users that much more anonymous throughout their daily usage. Lastly, a kill switch is employed to halt all network traffic, should the VPN disconnect for whatever reason.
Reviewers have claimed that servers readily support P2P sharing. While speeds can decrease during peak times, these reliably creep back up as traffic subsides. Connections remain stable, and torrenting remains a possibility.
Windscribe is unique in its multiple connection protocol offerings. The VPN leverages IKEv2 as a standard—a galvanized derivative of the L2TP/IPsec protocol. Server reconnections are swifter under these conditions. Other options are as follows:
UDP + OpenVPN (faster yet susceptible to firewall blocking)
TCP (slower, resilient UDP fallback)
Stealth (OpenVPN encapsulated by a TLS tunnel, secondary fallback)
Wstunnel (OpenVPN encapsulated by a WebSocket, tertiary fallback)
SOCKS (Proxies TCP connections to arbitrary IP addresses)
These connection modes all support multiple ports.
Windscribe further sets itself apart by incorporating ad blocking by default. DNS leak protection and IP masking are also baked in. Lastly, load management is important to avoid networking bottlenecks. The VPN permits split tunneling—effectively letting users divide app traffic between their standard ISP connection and the VPN network.
Speed
Reviews vary, though the general consensus is that Windscribe's speeds are largely average. Connecting to servers in one's immediate vicinity offers the best performance. This is common. So too is the fact that distant servers provide poorer performance.
Users may expect networking speeds ranging from 26 to 200Mbps—though download speeds on faraway servers can dip into the single digits. Upload speeds remain largely average to unimpressive. Some reviewers have remarked that connection speeds are occasionally a weakness, even on P2P-friendly servers.
The Torrenting Advantage
Building on Windscribe's firewall feature, users can choose between three modes: automatic, always on, and manual. Automatic is standard and recommended for most users, due to its responsiveness to dynamic networking conditions. Manual gives you full control. Always-on mode keeps the firewall active at all times—though it blocks internet activity when the VPN is disabled.
Interested in WindScribe? Check it out!
Another proprietary feature called Cruise Control promises to optimize connection speeds. Windscribe automatically chooses the fastest server with close proximity to you. Additionally, the VPN will bump you to another server, if it's necessary for accessing geo-locked content.
What about torrenting client support? Windscribe meshes well with µTorrent, BitTorrent, Bitport.io, Vuze, and Deluge. The VPN also supports streaming with YouTube, BBC iPlayer, Kodi, and HBO GO.
Extra Privacy Benefits
The company's Double Hop feature also connects you to a second location. This obscures your true location even further. That's important for avoiding ISP tracing. It also shields you from other internet users.
Other key anonymity features include the following:
Remote server timezone stamping
Random user agent rotation
GPS spoofing based on proxies
Automatic cookie deletion
WebRTC blocking
Overall, Windscribe is a powerful option that doesn't skimp on functionality, just because users are budget conscious.
2) TunnelBear
The perfect option for casual torrenting and social-media devotees alike, TunnelBear bundles exceptional security and features into a simplistic package. While the vendor only grants free users 500MB of monthly data, a simple Tweet to TunnelBear will increase that allowance to 1.5GB. While that's not staggering, repeated engagement with TunnelBear lets you replenish your data.
Like Windscribe and others, TunnelBear VPN supports Windows, macOS, Android, and iOS. The company also provides specialized VPNs for Opera, Firefox, and Chrome users.
Ease of Use
The TunnelBear GUI features a simple ON/OFF toggle paired with a map. TunnelBear displays your location and connection location in conjunction—showing you how the app is working. A drop-down menu lets you choose your connection type (defaulting to Auto). As expected, the Settings gear in the upper-righthand corner houses key configurations.
Over 21 million users worldwide rely on TunnelBear. Typically, a free VPN for torrenting doesn't enjoy such popularity. The company itself also maintains popular mobile ad blockers and password managers—further evidencing their commitment to user privacy.
Additionally, TunnelBear undergoes annual security audits via independent, cybersecurity companies. Aside from the privacy features we'll imminently dissect, this has garnered user trust in a big way.
Connectivity and Privacy
Mac, Windows, and Android users will leverage the OpenVPN protocol while forging network connections. OpenVPN is highly secure, reasonably quick, and utilizes almost any port effectively. This protocol is also great for besting firewalls due to its flexibility. If you're using TunnelBear on an iOS device, the VPN instead defaults to IPsec. Accordingly, a number of other VPN providers use IPsec for their iOS products.
TunnelBear also deserves kudos for its encryption strength. It touts its "military-grade" encryption (as AES 256-bit typically is)—coupling it with SHA1-HMAC data authentication. This algorithm is 160 bit. This authentication ensures that information is safe and represented accurately. This is critical when receiving and sending packets. TunnelBear asserts that this prevents man-in-the-middle attacks.
Rounding out our specs sheet are the VPN's TLS v1.2 signage specification and RSA 2048 key. This procedural connection verification and certificate tandem prevents server impersonators from gaining a foothold. Some VPN providers have adopted RSA 4096 keys. While more secure, these increase SSL handshake latency while signing more slowly. They're also more CPU intensive.
It appears that TunnelBear has compromised in order to boost networking speeds. This isn't necessarily a concession; GnuPG, for example, finds RSA 4096 to be overkill in relation to its cryptographic benefits.
The VPN maintains secure servers in 26 countries. The service prevents IP tracking and helps users circumvent government censorship. TunnelBear also provides robust password and data protections when you must use public Wi-Fi.
Speed
TunnelBear doesn't remark explicitly on expected speeds, yet promises zippy performance for free users. Reviews claim these speeds range from 12 to 230Mbps. These speeds may dip into the single digits while connected to faraway servers. Luckily, impressions on TunnelBear's speeds—even for free users—are competitive across the greater VPN market.
The Torrenting Advantage
TunnelBear VPN offers access to global content, without imposing locale-based restrictions on users. The company touts its VPN's speedy performance. Throttling and slow-downs are somewhat common while torrenting. TunnelBear sidesteps this problem—though users might encounter a degree of performance degradation while using distant servers.
Interested in TunnelBear? Check it out!
Want to access popular torrenting sites? At least 29 nations (according to Wikipedia) have one or more ISPs that block access to The Pirate Bay, alone. TunnelBear's censorship-and-ISP avoidance maneuvers can help you access these P2P resources.
The VPN plays nicely with torrenting clients like µTorrent, BitTorrent, Bitport.io, Vuze, and Deluge. The same goes for streaming services like YouTube, Spotify, HBO GO, and Kodi.
To cap things off, TunnelBear adheres to a strict no-logging mandate. Your browsing history is secure and hidden from prying eyes—from multiple sources.
3) hide.me (with some caveats)
Another platform-inclusive VPN, hide.me includes VPN options for Windows, Mac, Linux, and the leading mobile OSs. Web browsers, FireTV, and even routers also have their own apps. This ensures you're using a bespoke solution tailored to your workflow. There are also no speed or bandwidth limitations—allowing for uncompromising upload-download performance during P2P transfers.
So, what's the catch? The free tier of hide.me's VPN service is quite geographically limited. Users may leverage only five locations in the United States, Canada, Singapore, and the Netherlands. If you live in these areas, you're golden. Otherwise, connection speeds may take a noticeable hit. Your use cases and location will determine how well this VPN works for you. This is a concession one might expect from a free VPN for torrenting.
Regardless, hide.me offers a number of benefits to casual users. There are absolutely no ads. Additionally, the company stringently upholds its no-logging policy at all times. All users can still tap into over 1,800 global servers for private, secure networking.
Ease of Use
The GUI is relatively simple and toggle driven. A lefthand sidebar with menu categories sits beside a main page, which displays settings and other dialogue. While technically more complex than some others, you'll never feel lost when navigating through hide.me's interface.
Connectivity and Privacy
Hide.me bills itself as a modernized VPN solution, sticking staunchly to that philosophy with its bleeding-edge choice of protocol. WireGuard is hide.me's default connectivity protocol. This is the newest available networking option.
WireGuard is faster than its predecessors, while also remarkably simple from a coding standpoint—with only 4,000 lines of code, compared to OpenVPN's 500,000+. Why does this matter? Due to the protocol's simplicity, it's easier to build into VPN programs. This leads to fewer bugs and better integration, ultimately benefitting users during their usage cycles. Contrastingly (and ironically), a free VPN for torrenting from another company might have too much complexity.
Additionally, WireGuard supports numerous encryption and hashing methodologies:
ChaCha20 (faster and CPU-friendlier than AES, safe from cache-timing attacks)
AES 256
BLAKE2s (quick and RAM friendly)
HKDF (Enables key diversification while thwarting secret info leaks to attackers)
Curve25519 (Prevents side-channel attacks and RNG issues)
WireGuard is both more flexible and easier to audit compared to other alternatives. This allows hide.me to patch issues quickly. Hide.me claims that its "smaller attack surface" makes it more secure. Let's pretend for a moment that a bullet represents an attack, and any object the target of said attack. Wouldn't it be easier to hit the broad side of a barn, as opposed to a tiny window?
Like Windscribe, hide.me also offers split tunneling for improved security and performance.
Speed
Hide.me offers the slowest speeds of the bunch, on paper. These download speeds range from 10 to 60Mbps in most cases.
However, it's important to note that speed shouldn't be THE determining factor for torrenting participants. Privacy is much more critical, and Hide.me excels here thanks to strong encryptions, hashing, and IP protections. Users also benefit from speedy auto-connect functions within the VPN app. This, in addition to the fact that P2P servers still perform admirably well, make Hide.me an attractive overall package.
The Torrenting Advantage
Hide.me grants users much more monthly data than average—a whopping 10GB. This allows you to download multiple items, instead of limiting you to small batches or simpler files. Most other VPN providers include anywhere from 500MB to 2GB per month, by comparison.
IP leak protection is included straight away. A firewall limits connectivity when the VPN is down—safeguarding privacy and your data allowances. Similarly, a kill switch has been implemented. DNS leak protection is standard.
However, how is easy is it to start browsing? A new browsing session doesn't incur a number of setup steps. Hide.me will both automatically connect on startup and choose the fastest server available. Connecting manually merely requires a click. If you're a Mac user, hide.me will automatically reconnect you if your connection happens to drop.
No matter what, the VPN service requires no registration nor credit card to get started. You may remain perfectly anonymous (within reason) as far as hide.me is concerned. A final bonus? The company is headquartered outside of the Fourteen Eyes surveillance alliance. Authorities and other actors won't have a strong, vested interest in obtaining your browsing data for their own benefit.
Free VPN for Torrenting—Feature Breakdown
We covered a lot in this article. To simplify things a bit, we've compiled all of the major factors that should go into making a choice for a free VPN for torrenting.
| | | | |
| --- | --- | --- | --- |
| Attributes | Windscribe | TunnelBear | Hide.me |
| Global Footprint | 10 countries (free version) | 26 countries (free version) | 5 regions with 1,800 servers (free version) |
| Privacy Features | Log-free, port forwarding, secure hotspot, Double Hop, cookie clearing, timezone changes, GPS spoofing, user agent rotation, WebRTC blocking | Log-free, regular security auditing, IP address rotation, kill switch, Trusted Networks feature | Log-free, anonymous IP address, IP leak protection, Offshore VPN (to avoid Five Eyes nations) |
| Encryption | AES 256 | AES 256 | ChaCha20 or AES 256 |
| Speed | 26-200Mbps, regionally (can drop off precipitously with distant servers) | 12-230Mbps, regionally (can drop off precipitously with distant servers) | 10-60Mbps most commonly, regionally (can drop off precipitously with distant servers) |
| Split Tunnelling | Yes | No | Yes |
| Supported Operating Systems | Windows, macOS, Linux, iOS, Android | Windows, macOS, iOS, Android | Windows, macOS, Linux, iOS, Android |
| Browser Addons | Chrome, Firefox | Chrome, Firefox, Opera | Chrome, Firefox |
| Data Cap | 10GB/month | 500MB-1.5GB/month, with the ability to "top off" | 10GB/month |
| Other Features | Static IPs, simple clients, proxy gateway, automatic server switching (for performance), ad blocking | GhostBear VPN anonymity (in restricted countries), widget and home screen access on mobile, ad blocker | Censorship bypass, website unblocking, in-house DNS servers, IPv6 support, Auto Server connectivity, startup connect, one-click connect |
VPN shopping? Don't be afraid to compare.
As with any software-driven tool, making a smart choice requires some healthy introspection. How much torrenting will you be doing? Where are you located? What features matter to you, and what's the ideal balance between security and convenience?
Trying a free VPN is a low stakes endeavor—after all, you're not losing a lofty investment if things don't work out. Don't be afraid to make comparisons and read reviews. It's important to note that free VPNs do typically sacrifice some features to shed cost.
Alternatives like ExpressVPN, NordVPN, and Hola VPN are better suited for general-purpose browsing. Radmin VPN, another popular service, delivers superb encrypted LAN connections. However, torrent-friendly VPNs bring specialized functionality to the table—as we've outlined above. Regardless, no service is perfect. That's why we recommend that your choice checks most of your boxes. Good luck, and happy browsing!