If your organization is looking to get a cloud email service, Microsoft offers several subscriptions that include Exchange Online. If you begin researching you may see references to both Exchange Online Plan 1 and Exchange Online Plan 2. Which to choose?
In this article, you're going to get an in-depth review of both Exchange Online plans and will see them compared side by side. By the end, you'll know what benefits you get from both plans, and what you'd get as extra if you opt for the more expensive plan.
Comparison Summary
Exchange Online Plan 2 can be regarded as an upgraded version of Exchange Online Plan 1. All features of Exchange Online Plan 1 are included in Exchange Online Plan 2.
Pricing is a huge consideration. Exchange Online Plan 1 is $4.00 user/month and Exchange Online Plan 2 is $8.00 user/month.
Apart from the apparent difference in pricing, what are the other differences between the two Exchange Online plans? These differences may help you decide which plan to finally get. The next sections will attempt to help you answer these questions.
Is the mailbox space enough?
Can users archive old messages?
Can deleted messages be retained and restored?
If an employee leaves, can the mailbox data be preserved?
How are sensitive data protected?
Is there support for voicemail integration?
Common Features
There are many features that are common across the two plans like:
Related: How to Set Up an Office 365 SMTP Relay with Connectors
Mailbox Storage Limits (User, Shared, Archive)
Mailbox storage is a huge concern when picking an appropriate plan. Let's cover each plan and how much mail you can store.
Exchange Online Plan 1
Each user mailbox can be a maximum of 50GB. Shared mailboxes and public folder mailboxes are also given the same maximum size as a user mailbox. The 50GB maximum mailbox size limit cannot be increased.
You can create up a 50GB archive mailbox size.
Exchange Online Plan 2
User mailboxes are given a 100GB maximum mailbox space, which is double the maximum size of an Exchange Online Plan 1 mailbox.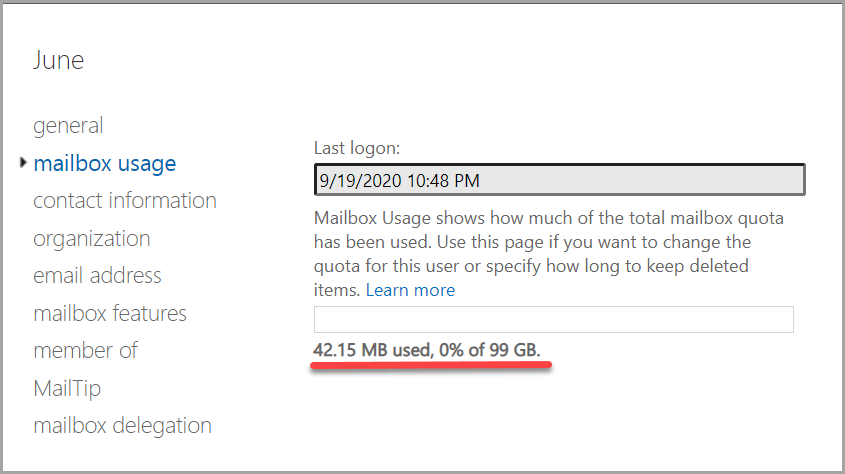 The maximum mailbox size of a shared mailbox is initially set to 50GB, without a license. The screenshot below shows the mailbox size of the shared mailbox without a license.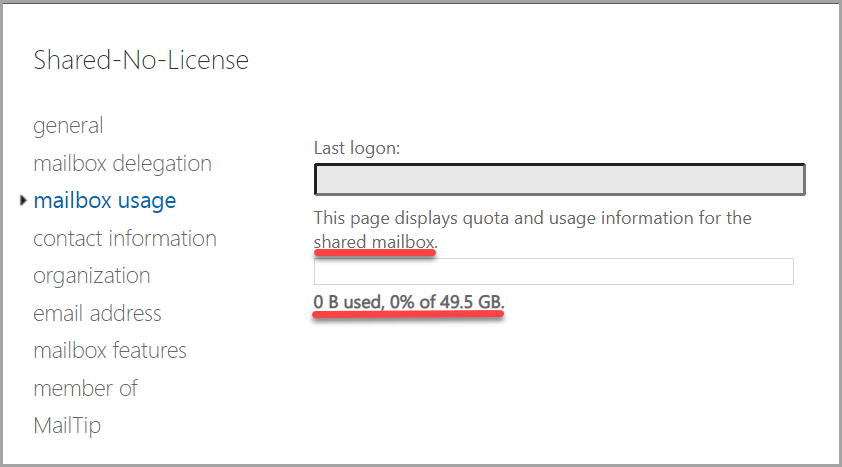 But, if a shared mailbox is assigned with an Exchange Online Plan 2 license, its size would increase to 100GB.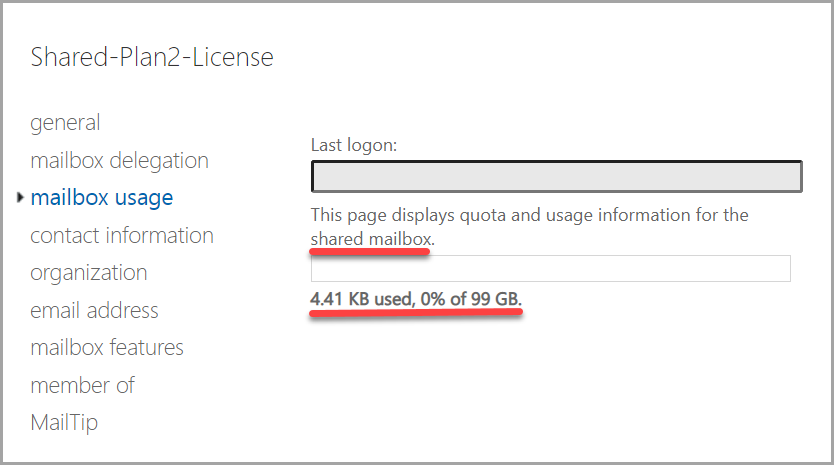 Note: While shared mailboxes do not require a license to be assigned, the users who will access a shared mailbox must have an Exchange Online license assigned.
With Exchange Online Plan 2, mailbox archiving is unlimited.
"Unlimited" doesn't mean unlimited. The initial size of the archive mailbox is set to 100GB. If more archive mailbox space is needed, Exchange allocates another 100GB from your archive mailbox space. This behavior is referred to as the auto-expanding archive.
Mailbox Preservation
There are times that employees or even the organization itself could be involved in a legal proceeding. And in these cases, mailbox data may need to be preserved so that if summoned, a company can retrieve it.
Organizations may preserve selected or all mail items from mailboxes. These can be preserved by putting items in an In-place hold or placing an entire mailbox in the Litigation hold.
Another way to preserve the mailbox is by turning the mailbox into an inactive mailbox. However, a prerequisite for creating an inactive mailbox is by placing the mailbox in litigation hold before the Exchange Online license is removed.
All of these mailbox preservation methods require that the mailbox is assigned with an Exchange Online Plan 2 license. If a company assigns a mailbox an Exchange Online Plan 1 license, a company can still preserve the mailbox but it must assign a separate (add-on) archiving license.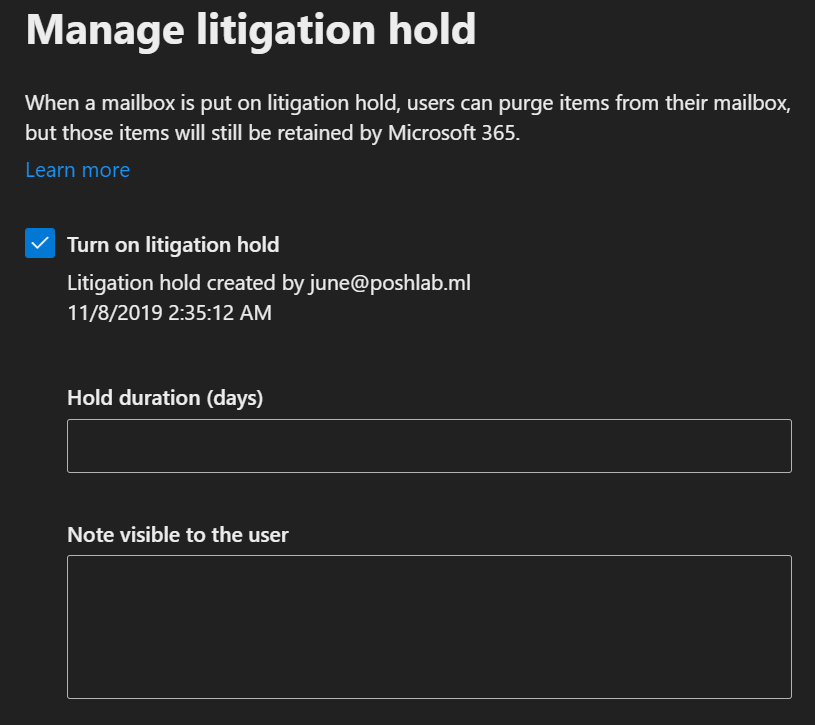 Data Loss Prevention
Protecting sensitive information is of the utmost importance. Whether it is your organization or your client, data leak must be prevented by those who are responsible for keeping them safe.
An Exchange Online Plan 2 subscription is the only license available with the data loss prevention (DLP) feature. With it, you can use built-in DLP policies or even create custom ones based on your business requirements.
Below are just some of the information that you could protect with DLP policies.
Social security number
Banking details, such as bank account numbers from different countries.
Passport number
Driver's license number
Tax file number
For example, if an employee responded to a phishing email and was asked to send their tax file number by email. Having a DLP policy to protect this type of information from being shared would prevent possible data leakage.
The image below is just an example of what happens when a message that matches a DLP policy assigned in the organization.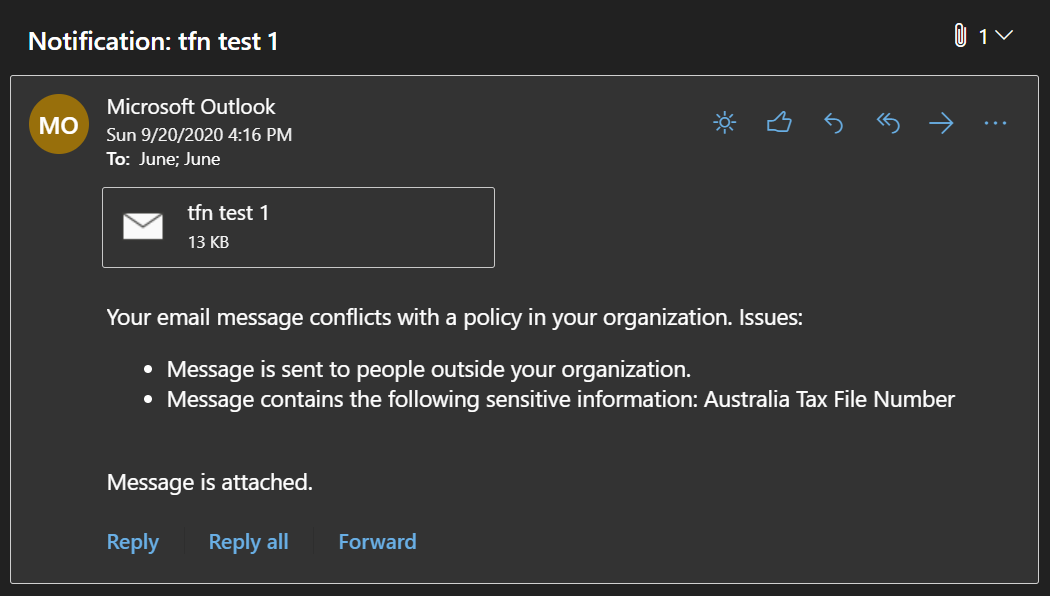 Data loss prevention is an excellent feature to have if your organization is concerned with protecting sensitive information.
Unified Messaging Services
Does your company need to manage voicemails in their mailbox or perhaps need an auto attendant service, you need unified messaging (UM). UM allows mailbox owners to receive voicemails in their mailbox and manage them.
Other than the convenience of managing voicemails via the mailbox, the auto-attendant is handy, The auto-attendant is like a digital phone receptionist that answer calls and provide options or menus that users can then press on their phone.
If you've called into a bank's phone system and was asked to press numbers to be directed to the right department – that's what the auto-attendant does.
Unified message services are only available with an Exchange Online Plan 2 license or any Microsoft 365 subscription that includes Exchange Online Plan 2.
Final Comparsion
Let's wrap up with a summary of all of the features in plan 2 that don't come with plan 1 to help you make a better decision.
| | | |
| --- | --- | --- |
| Feature | Exchange Online Plan 1 | Exchange Online Plan 2 |
| Price | $4/user | $8/user |
| User mailbox storage max | 50GB | 100GB |
| Shared mailbox storage max | 50GB | 100GB |
| Mailbox archiving max | 50GB | Unlimited |
| Mailbox preservation | Add-on license needed | Yes |
| Data loss prevention | No | Yes |
| Unified Messaging | No | Yes |
Looking at the features alone, Exchange Online Plan 2 has better (and bigger) features than Exchange Online Plan 1. However, while those additional features are great to have, they come at double the cost. And as always, money tends to be a huge factor when deciding to get into a deal.
In the end, I hope that this article has helped you determine what you're getting (or not getting) with the Exchange Online Plan you'll choose.