If you're in the market for an Active Directory tool to help you manage your Active Directory environment better, you've come to the right place. Active Directory (AD) is a ubiquitous part of many IT pros' daily lives. Although you can manage it without any help, a tool makes it easier.
In this article, you're going to learn a few of the most popular tools to help you manage AD from five of the most popular paid and free tools out there.
ManageEngine ADManager Plus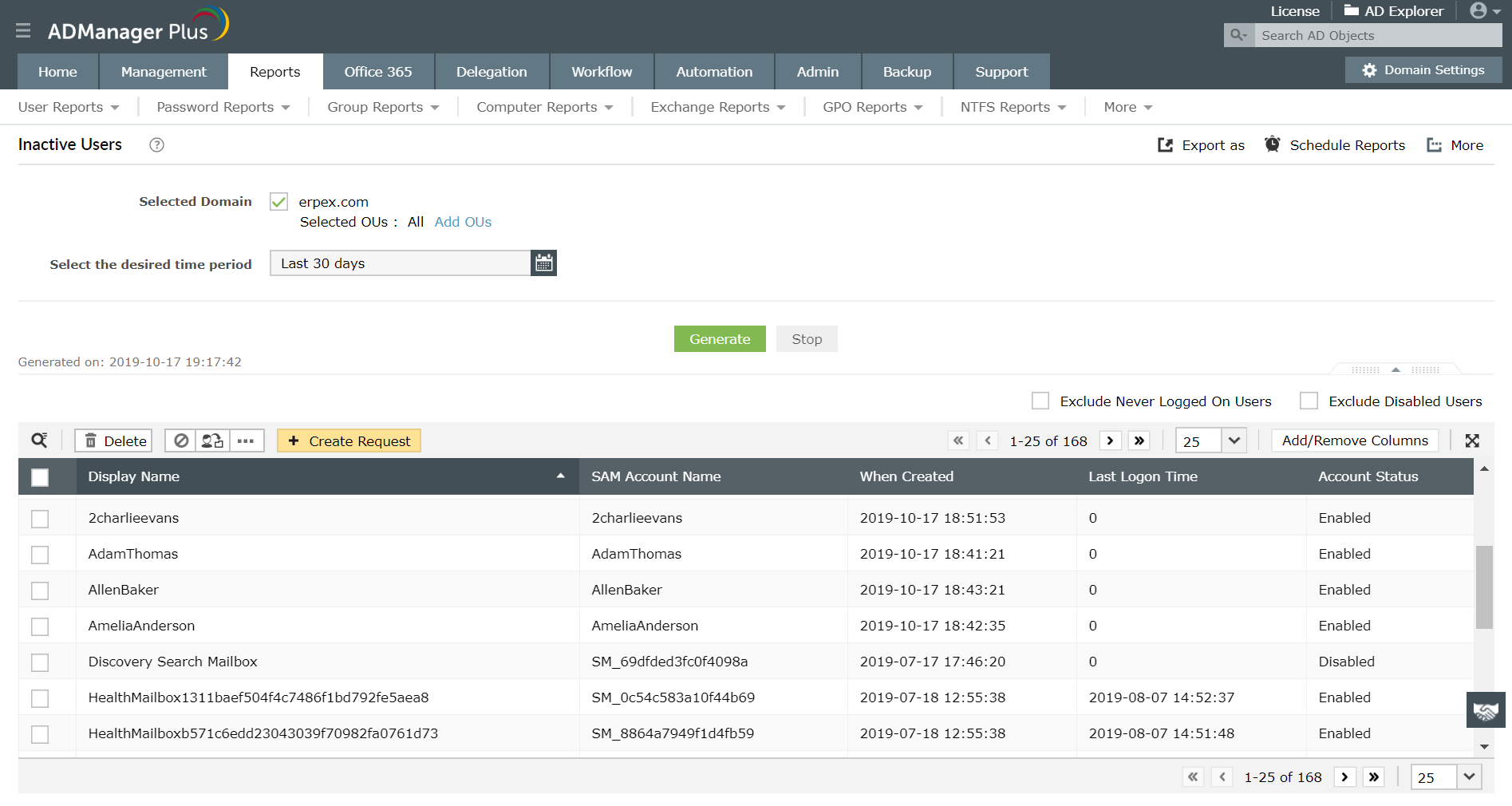 ManageEngine purposely builds ADManager Plus for Microsoft ecosystems. ADManager Plus is a web-based platform that provides unified management and reporting services for Active Directory.
ADManager Plus has multiple tools that touch on all the aspects of Active Directory such as managing users, computers, groups, contacts, and even Exchange, all from a centralized place. ADManager Plus is actually like a suite of products all rolled up into one.
This tool supports common administrative activities such as resetting user credentials like passwords, disabling and deleting user accounts, modifying user profiles, and configuring domains.
ADManager Plus also has support for bulk changes meaning system administrators can create single or bulk user accounts without using PowerShell scripts which often consume time and are difficult to write.
System administrators can efficiently provision user accounts through user creation and modification templates that contain pre-filled attributes of users such as an employee role or department of operation.
Outside of the scope of AD, ADManager Plus also provides support to manage file and shared folder permissions. The file server management feature helps administrators define which user accounts have "what" permissions to access shared folders and files.
For auditing and reporting user activities, ADManager Plus provides customizable dashboards and various default reports.
Features of ADManager Plus
Supports simultaneous provisioning of users in AD and other extended platforms like Office 365, MS Exchange, Google Workspace, and Skype, all from a central point.
Has iOS and Android mobile apps for performing AD management services like resetting user passwords, enabling/disabling accounts, deleting accounts, and resetting computers, all on the go.
Supports bulk user credentials management such as automated password resets, password updates, and the generation of detailed password insights through password reports.
Features bulk computer management in AD environments. Sysadmins can use GUI-based actions to perform changes on multiple computers simultaneously. The changes include adding/removing bulk computers from AD groups or moving selected computers between organizational units in an AD.
Generates comprehensive reports on AD users, logon activities, computers and groups, and MS Office 365 based on reporting libraries that come with the tool.
Solarwinds Access Rights Manager (ARM)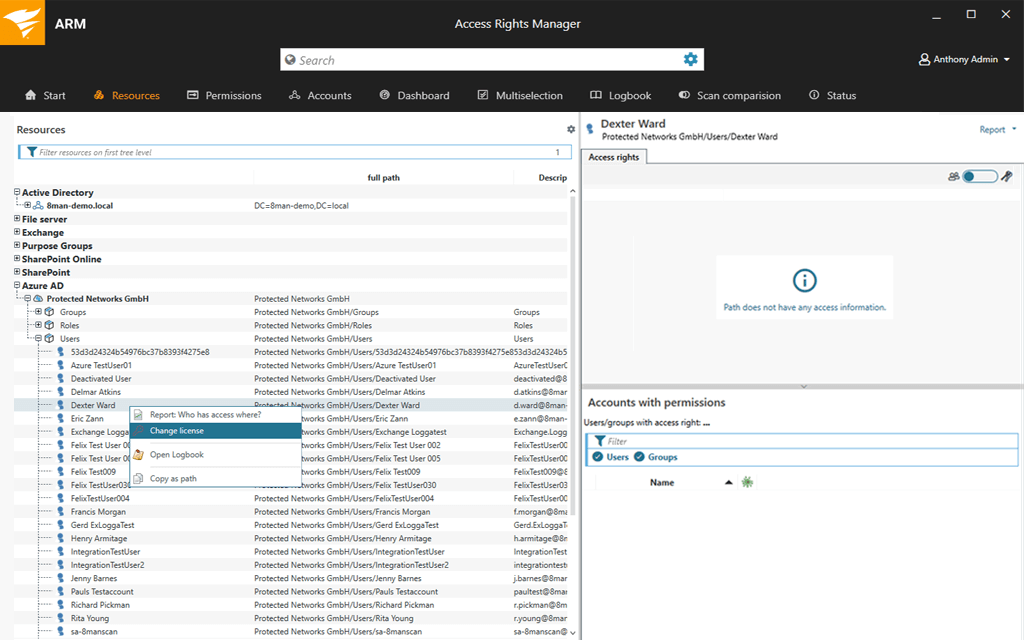 If you're looking for a tool specifically aimed at managing AD permissions, Access Rights Manager by Solarwinds is worth looking into. This tool is perfect for auditing users and their access rights within AD from a central point.
This tool also offers standard AD functionality such as creating users with role-specific templates, modifying, and removing user accounts.
ARM also provides a self-service portal for users to manage their own accounts too.
If you need auditing capabilities, ARM delivers. Using data acquired from AD, it provides visibility into critical resources such as file servers that users access by visualizing AD user permissions.
Features of Solarwinds ARM
Supports automated user provisioning and de-provisioning in Azure AD/hybrid environments through role-specific templates.
Integrates with SharePoint, MS Exchange, and OneDrive to monitor and maintain user permissions across the entire infrastructure.
Manages Active Directory users and group permissions in real-time through detailed AD audits and reports.
Demonstrates GDPR and HIPAA standards compliance which is necessary for risk assessment and user account security.
Features a risk assessment dashboard to keep track of security issues such as credential abuse.
ManageEngine ADAudit Plus

ManageEngine ADAudit Plus is a real-time auditing and reporting tool for workstations' logging activities.
ADAudit Plus leverages machine learning techniques to audit user behavior and flag any unusual activities such as spikes in lockouts which can be seen as threats or privilege abuse. ManageEngine ADAudit Plus also audits changes made to AD objects, AD groups, and users' access to resources in an on-premise AD or Azure AD.
ADAudit Plus features an automated response to incidents that have been flagged as threats during the audit. With ADAudit Plus, system administrators can oversee all changes made on AD, such as modifications on domain-level policies, account credential policies, and security policies.
ADAudit Plus can be configured to monitor, audit, and report permission changes at various levels in AD, including domains, organizational units, and groups to curtail unnecessary access and privilege abuse.
System administrators can create custom reports on the changes made to an AD. The custom reports can show who made the changes and when the changes took effect.
The tool also comes with pre-defined report templates such as user login reports, local logon-logoff reports, user management reports, group management reports, and computer management reports.
Features of ADAudit Plus
ADAudit Plus supports proactive auditing of cloud AD environments like Azure AD with real-time alerts sent directly to the device of your choice.
ADAudit Plus relies on user behavior analytics (UBA) to detect anomalies in an AD based on user activities, including logins and account lockout frequencies.
ManageEngine ADAudit Plus features real-time compliance auditing and works closely with HIPAA, SOX, and PCI
Supports autonomous change remediation and responds to security alerts in real-time to take care of the issues raised by the notifications.
Integrates well with SIEM tools such as Splunk, ArcSight to maximize the security of an IT infrastructure.
Quest Active Administrator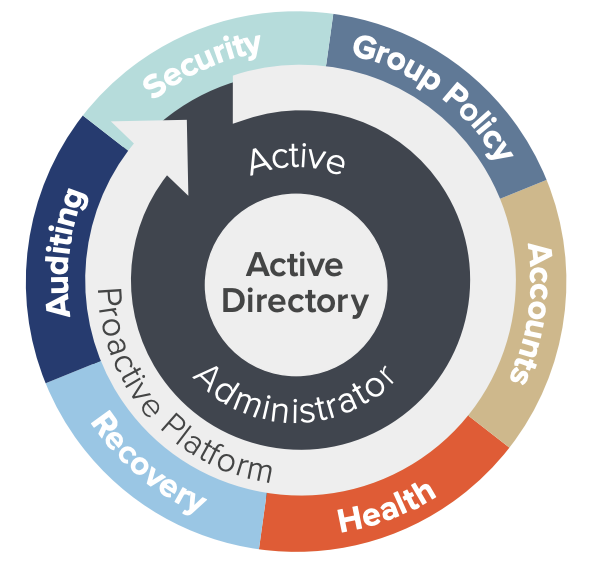 Quest Active Administrator can serve sysadmins as a management and migration tool for Active Directory. It provides AD recovery and backup solutions, control auditing, security, and health monitoring, all from a single console. For security management, Active Administrator can automatically escalate and deescalate security policies and user permissions when addressing and enforcing internal policies on security compliance in an AD.
Besides security management, Active Administrator allows system administrators to quickly restore users, security descriptors, AD objects, and group memberships from AD backups.
Active Administrator offers flexibility in managing user accounts. One can locate inactive users, groups, and organizational units then perform AD clean up. Additionally, system administrators can identify expiring/expired user credentials and send notifications to users to indicate needed updates.
Features of Quest Active Administrator
Intuitive reporting and alerting system to filters events and user activities, enabling quick response when correcting improper changes in an AD.
Active Administrator supports seamless synchronization of on-premises AD changes to Cloud Active Directories like Azure AD.
Quest Active Administrator features automated AD health checks from assessment reports and dashboard views of AD configurations that help identify bottlenecks in an AD.
Supports automated backup and recovery of entire AD objects, security settings, and user attributes, which can create or restore an Active Directory.
PRTG Active Directory Monitor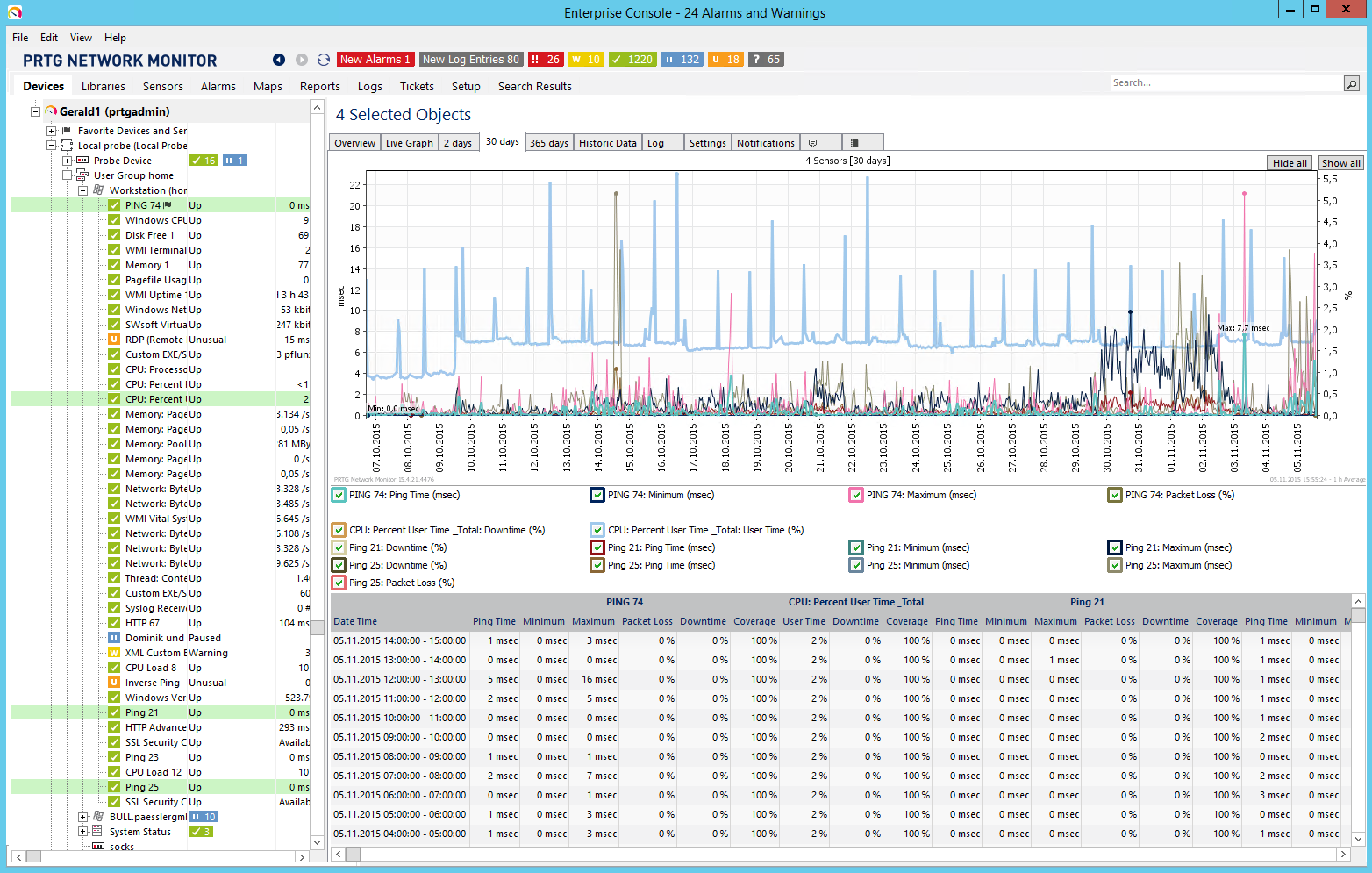 PRTG network monitor is a flexible and real-time monitoring tool that gives you great control over domain forests and user groups in your Active Directory.
With PRTG network monitor, you can identify logged-out and deactivated users easily without writing any script because PRTG comes with a ready-to-use script that queries an entire AD to obtain the status of user accounts.
PRTG uses elements known as sensors to control and monitor AD group membership. System administrators can then query the users in a group and set limits if they exceed the required number for an AD group.
One can also track the members who join an AD group because PRTG features a flexible notification mechanism such as emails and HTTP requests whenever one is added into the AD.
PRTG has the edge over other AD tools because it helps sysadmins resolve replication errors prone in domain controllers. The replication errors often occur when users added into AD groups are not properly controlled.
Features of PRTG Active Directory Monitor
Users can either subscribe for the free or paid version.
Easily integrates with other network monitoring tools through auto-discovery and pre-configured templates making administration effortless.
Has flexible alerting mechanisms to send notifications directly to devices link android and iOS. The push notifications sent to mobile devices let system administrators know what matters most in the AD.
Active Directory Tools: Compared
This article covered a lot of information about each tool. It may be hard to remember how each tool stacks up to one another. If you need to compare each tool based on a set of common features, take a look at the table below.
| | | | | | |
| --- | --- | --- | --- | --- | --- |
| Company | Name | Editions Available | Support for Compliance | Bulk User Management | Support for Hybrid Environment |
| ManageEngine | ADManager Plus | Free, Standard and Professional versions are available. | Yes | Supports bulk user provisioning and de-provisioning. | Integrates well with MS Exchange and Office 365 |
| Solarwinds | Access Rights Manager (ARM) | Free trial for both ARM Audit Edition and ARM Full version is available for download. | Yes | Automated provisioning and de-provisioning of bulk accounts. | Supports integrations with SharePoint, OneDrive, MS Exchange , and File Servers. |
| ManageEngine | ADAudit Plus | Free, Standard and Professional versions are available. | Yes | Allows for multiple user accounts management. | Supports Azure AD environments. |
| PRTG | Active Directory Monitor | Both Free and Paid versions exist. | Yes | Focus is on one account at a time. | Supports integrations with AWS, MS Exchange, and VMware environments. |
| Quest | Active Administrator | Both Free trial and Priced editions are available. | Yes | Management is focused on one account at a time. | Supports SharePoint and Office 365 integrations with an AD. |
Conclusion
Without proper AD management tools, system administrators cannot manage critical Microsoft AD environments efficiently. Therefore, special tools are needed to complement the native AD tools and gain more control over AD objects. In this article, you have seen some of the available tools for a free trial and usually provide great flexibility when working with Active Directories.